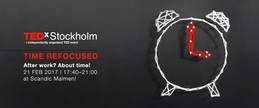 After work - about time!
New year, new goals – same struggle with time management. But what if we could look at time in a new way?
Join us for an inspiring head start of 2017 at Scandic Malmen! As we can't wait for the Salon Season to kick off for real, we'll warm up with a more casual After Work.
Similarly to the Salon events, we'll gather around two short TED-talks on the topic of Time. With these new perspectives in mind, we'll then open up for an inspiring discussion. Share your ideas, mingle and meet the community! The question we will gather around concerns us all: How can we make the most out of the time we have?
Set the clock by reserving your free ticket!
Doors open at 17:40 and we'll start the talks at 18:00. By 19:00 we open up for free mingling. Beverages on cost.
Hope to see you there.