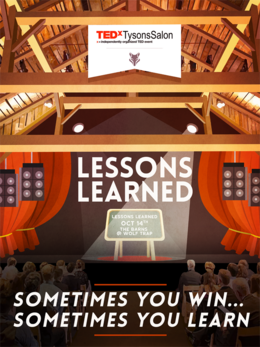 Ever made a mistake? And learned from it?
Failed at something? But tried again?
Suffered a loss? Survived and emerged stronger?
Lessons Learned is a TEDxTysonsSalon event organized to initiate discussion about the spirit of the individual and the power of resilience. Learning from mistakes, overcoming failures and enduring loss. What if instead of training for success we train to use failure as fuel?
A critical element of TEDxTysonsSalon events is a lively discourse, allowing attendees to actively participate in the event.
Sometimes you win… sometimes you learn!
Speakers
Speakers may not be confirmed. Check event website for more information.
Author, screenwriter, travel writer
Bob Harris's book on microlending via the charity Kiva.org, The International Bank of Bob (Bloomsbury, 2013), shares the stories of mom-and-pop businesses he lent to online, then visited in Rwanda, Cambodia, and a dozen other countries on five continents. His personal lending has now reached 10,055 clients in 87 countries.
Jabari Lyles
Executive Director at GLSEN Maryland
Jabari Lyles is an educator, nonprofit leader and community leader in Baltimore, Maryland. His work focuses on positive outcomes for youth and the LGBTQ community, especially LGBTQ youth of color. He is currently Director of the Maryland chapter of GLSEN, the leading national organization championing LGBTQ issues in K-12 schools.
CEO/Designer/Author
Tala Raassi, an Iranian American fashion designer/author, born in the US and raised in Tehran. Named one of the "Most Fearless Women in the World" by Newsweek magazine, she is devoted to celebrating the beauty of women's bodies through her designs and to empowering women all around the world to follow their dreams. For Raassi, "Fashion is Freedom."
CEO at Digital Scholars Consulting
Tiffany is an Instructional Technologist, Microsoft Innovative Educator Expert, Master Trainer, Adjunct Instructor and Online Content Developer. She has over 16 years of experience in education and technology. Her philosophy is, "To prepare students for the future and to improve engagement and relevance in the classroom, we must be innovative and fearless."