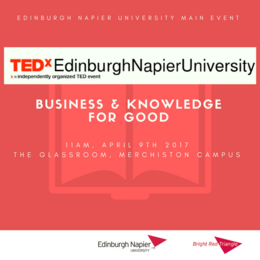 In the spirit of ideas worth spreading, TEDx is a program of local, self-organized events that bring people together to share a TED-like experience. At a TEDx event, TEDTalks video and live speakers combine to spark deep discussion and connection in a small group. These local, self-organized events are branded TEDx, where x = independently organized TED event. The TED Conference provides general guidance for the TEDx program, but individual TEDx events are self-organized (subject to certain rules and regulations).
Speakers
Speakers may not be confirmed. Check event website for more information.
Devie Mohan
Financial technology researcher, an influential writer, speaker and commentator, who has been listed as a top 10 fintech influencer, by several groups.
Elliot Bibby
Fascinated by magic since the age of 10, when he first saw a demonstration in a toy shop in London, Elliot kept practicing magic tricks throughout his life, even when he was studying Sports Science at Edinburgh Napier University.
Ewan Aitken
Runs a charity called Edinburgh Cyrenians, which helps vulnerable people by giving them jobs. He believes both private and public sectors can support charities.
Manish Khatri
Elected President 2017 for the Edinburgh Napier Students Association (ENSA).
Prabhuraj Balakrishnan
Researcher at Manchester University who was awarded the Young Chemical Engineer of the Year 2017 by the Global Institution of the Chemical Engineers.