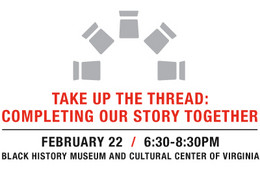 Everyone has a story to tell. Many of our stories are intertwined by events that have affected each of us differently. The lens through which a story is told has a profound impact on the audience, and often an audience is told a story through just a singular lens.
Unfortunately, much of our history has been taught this way; stories passed down from generation to generation, representing only one voice. There are many voices now rising to the surface, and collectively they are working to complete those stories. The Black History Museum and Cultural Center of Virginia is a treasure trove of largely untold stories, so in honor of Black History Month TEDxRVA will be hosting its monthly salon series in the Community Room of the Black History Museum, where we can all gather to appreciate the stories within their walls and the stories yet to be told.
Join us on February 22, 2017, for the screening of two TED talks on this topic, as well as a panel discussion and small group discussions about the importance of sharing our stories. The small group discussions will be facilitated by community leaders, authors, poets, journalists and other professionals in the writing world who dedicate their lives to shaping and documenting the stories of our time. Come learn about the history not found in school textbooks and help us complete the story of Richmond.