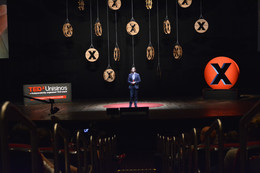 In the spirit of ideas worth spreading, TEDx is a program of local, self-organized events that bring people together to share a TED-like experience. At a TEDx event, TEDTalks video and live speakers combine to spark deep discussion and connection in a small group. These local, self-organized events are branded TEDx, where x = independently organized TED event. The TED Conference provides general guidance for the TEDx program, but individual TEDx events are self-organized (subject to certain rules and regulations).
Speakers
Speakers may not be confirmed. Check event website for more information.
Físico e Diretor do Projeto Sírius
Antônio José Roque da Silva é graduado e mestre em Física pela UNICAMP, PhD em Física pela University of California at Berkeley, onde também fez um de seus pós-doutorados. Fez ainda post-doc na University of California at Los Angeles. Hoje, é Diretor do Laboratório Nacional de Luz Síncotron (LNLS), e trabalha em um dos projetos mais revolucionários da ciência brasileira: o Sirius, o novo acelerador de partículas que está sendo construído pelo laboratório.
Escritora
Apaixonada pelas palavras e por seus significados desde criança, a escritora Christina Dias sempre teve o universo da arte impresso na vida. Formada em Letras pela Universidade Federal do Rio Grande do Sul (UFRGS) e com especialização em Psicopedagogia, sua trajetória profissional começou como professora para todas as etapas dos ensinos Fundamental e Médio. Após 20 anos no meio acadêmico, ela teve a oportunidade de escrever profissionalmente e já tem mais de 25 livros publicados.
Atração cultural
Afinidade e companheirismo são importantes para o sucesso em qualquer projeto coletivo. Seja um time de futebol ou uma banda. Foi assim que a Dingo Bells, atração musical do TEDxUnisinos 2017, fez fama no cenário musical ainda em 2015, com o álbum "Maravilha da Vida Moderna".
Diretor FabLab Recife
Edgar Andrade é o fundador do FabLab Recife e acredita que não há tempo para muita conversa, temos que botar a mão na massa e fazer as coisas acontecerem.
Gerson Fauth
Geólogo
Gerson Fauth, Doutor em Geologia, é professor e pesquisador na Unisinos. Desde a escola, a geografia já estava no quadro de disciplinas preferidas dele.
Gustavo Barreto
Jornalista
Gustavo Barreto, foi voluntário do Greenpeace e fundou a revista Consciência.net, projeto que existe há 17 anos. Entre 2009 a 2011, fez mestrado sobre direitos humanos e internet e, em 2015, concluiu o doutorado sobre mídia, cidadania e migrações, ambos pela UFRJ. Ainda em 2009 começou a trabalhar com migração e refugiados, projetos que até hoje participa e apoia.
Hique Gomez
Artista
Hique Gomez é músico, ator, compositor, multi-instrumentista e arranjador. Começou a estudar música aos 11 anos e aos 15 já era profissional na área. Ele se encontrou nos palcos e encantou pessoas de diversas gerações e lugares do mundo. O espetáculo "Tangos & Tragédias", o qual ele foi criador e ator principal junto com Nico Nicolaiewsky, esteve em cartaz durante 30 anos viajando por todo Brasil e pelo Exterior (principalmente por países da América Latina).
Futurista
Jean-Christophe Bonis is an expert in new technologies after having worked for more than 15 years on behalf of investment funds and then as a consultant. Also known as The French Futurist, he has devoted his professional life to analyzing the impact of new technologies on consumer behavior and the strategic impacts on organizations. As the founder and CEO of Oxymore Inc., he is also deeply involved in the global ecosystem of startups.
Joana Féllix
Professora e Pesquisadora em Química
Joana Félix é Doutora em Química pela Unicamp (Universidade Estadual de Campinas), Professora e coordenadora de pesquisa na Escola Técnica Estadual Prof. Carmelino Correa Júnior em Franca - SP. Seu trabalho foca em ajudar os estudantes da escola a ingressarem na universidade.
Médica
PT BR - Mayara Floss é uma jovem médica brasileira, foi co-criadora do projeto de Educação Popular "Liga de Educação em Saúde" e entusiasta da medicina de família e comunidade em contextos rurais. Escreve no blog "Rua Balsa das 10" (balsa10.blogspot.com) e Causos Clínicos (causosclinicos.wordpress.com). EN - Mayara Floss is a Brazilian young doctor, she co-created the project "Health Education League" based on Freirean popular education and she is an enthusiast of family medicine rural contexts. She writes on the blogs "Rua Balsa das 10" (balsa10.blogspot.com) and "Causos Clinicos" (causosclinicos.wordpress.com).
Ilustrador
Pablo Aguiar é ilustrador e quadrinista gaúcho. Mora em Alvorada, cidade localizada no Rio Grande do Sul, desde o seu nascimento. Graduado em Comunicação Digital pela Unisinos, em 2015 participou de um intercâmbio na Espanha para estudar Artes Visuais, onde aprendeu mais sobre desenho e pintura. Já realizou duas exposições na Galeria Mário Quintana na Estação Mercado da Trensurb. Em seus trabalhos costuma utilizar como técnica a aquarela e o nanquim.
Pâmela Ghilardi
Blogueira
Falar sobre maternidade quebrando tabus é uma das missões do blog Fofoca de mãe, criado por Pâmela Ghilardi, moradora de Sapiranga, interior do Rio Grande do Sul. Mãe aos 20 anos, jovem e solteira, ela compartilha sua vida nas redes sociais para milhares de seguidores.
Poh Tan
Educadora e Cientista em Células Tronco
Dr. Poh Tan is a mother, educator, scientist and entrepreneur, whose drive for success developed in spite of a challenging childhood. Dr. Tan graduated from Simon Fraser University (SFU) with a Bachelor of Science, and subsequently obtained a PhD from the University of British Columbia in the Faculty of Medicine with a focus on hematopoietic biology. As an advocate for scientific literacy, Dr. Tan is pursuing her second PhD in the Faculty of Education at SFU. Her research focuses on developing science curriculum that can be used to nurture curiosity and develop scientific literacy skills in young children. In addition to intellectual skills, Dr. Tan's science curriculum also considers a notion of morality and she hopes to inspire young children to be moral and responsible scientifically literate citizens