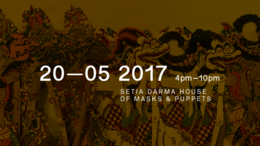 So much of what really matters in the world is impossible to see, so much of what happens at night is still a secret, but the dark hours have given us humans the material and space to tell some of our best stories, and that's what TEDxUbud at night (our first night event!) is designed to explore.
With speakers including a scientist working with fire, a mosquito whisperer (mosquitoes' activity peaks during the dusk hours), the inventor of the first commercial astronomy camera coming from Singapore, the founder of one of Indonesia's unicorn startups just praised by NASA, a member of the International BBC 100 Women List flying in from Jakarta, a visual artist who can bend light to his will, a band with a Rolling Stone Indonesia Top Album of 2016 credit to its name, a fascinating Japanese contemporary dancer, and a famous shadow puppeteer, the program is packed with bold new looks at intriguing topics.
Speakers
Speakers may not be confirmed. Check event website for more information.
Prana
Band
In 2016, a group of talented musicians and dancers gathered for a couple of days and birthed this collective 'supergroup'. Prana is a collaboration of many music and dance talents coming from the creative community located in Ubud. Prana's original works are created by maintaining unique voices of musicians and original movement from the dancers. They live recorded their first album in 2017.
Sanggar Paripurna
Sanggar Paripurna
Astrophotographer + Startup Founder
Grey Tan is a professional photographer from Singapore, a city with one of the highest levels of light-pollution in the world. In 2014, he visited Mersing, Malaysia for a field trip and witnessed the grandeur of the Milky Way for the first time. Inspired by this encounter but unable to share the experience with friends and family, he started TinyMOS, a company that aims to make astronomy imaging accessible to all. Last year, the company launched Tiny1, the world's smallest, smartest and most social astronomy camera, smashing past its US$100,000 crowdfunding goal in just four hours. The camera is designed to make astrophotography—taking pictures of the night sky—available to all, without the many bulky and expensive tools normally required for such a task.
Jasmine Okubo
Dancer + Choreographer
Jasmine Okubo is a Japanese dancer and choreographer. Born in southern Turkey, she visited Bali as a child and, after witnessing a performance of Balinese dance, announced to her parents that she wanted to be a Balinese dancer. When she was 9 years old, she returned to Bali to study traditional Balinese dance in Ubud, and in 1997 she began performing for tourists with a local troupe. At this time, she appeared regularly at Ubud Palace and was a member of the Sekaa Gong Bina Remaja dance group. Since then, she has travelled across Asia, Africa and Europe in search of other cultures and dances, but could never forget the beauty of Balinese dance. In 2003, she returned to Indonesia to study dance at the Indonesian Institute of the Arts in Denpasar.
New Media Artist
Joe Crossley / Visual Artist has been in and around the leading edge of the new media art movement since 2006. In 2009 his personal work GEO-GLO marked his arrival on the art scene with coverage from the likes of The Creators Project and VIVID Sydney. Since then his works have branched out into 'actual reality' projection mapping, working with indigenous communities of Australia, including his VIVID Path to the Future project, a widely celebrated 'open-source' projection mapping film festival. Joe has also created acclaimed works for the Sydney Opera House with Intel, this time for Sound Cells, Australia's largest 3D print broadcast units, and True Life, an ongoing work using naturally occurring processes. This year he was named EPSON's first official projection mapping artist which will see him attend a number of events around the world showcasing his works of art.
Kartika Jahja
Musician + Feminist
Kartika Jahja is a musician, songwriter, gender rights activist, and lead singer of the critically acclaimed Indonesian band Tika & the Dissidents. She has organized several campaigns focused on gender issues, including One Billion Rising Indonesia, launched in 2012, and Tubuhku Otoritasku (My Body is My Authority). In 2015, Kartika founded Bersama Project Foundation to educate Indonesian youth on issues of gender and sexuality through music, arts and pop culture. As a controversial and outspoken figure in Indonesian society, Kartika has gained a number of accolades, including being named "Perempuan Penembus Batas" (Breakthrough Female) by TEMPO Magazine and one of BBC's 100 Most Inspirational Women in the World. Currently, Kartika is working on a zine project and planning to become the 2017 ambassador for Vital Voices Global.
Environmental Entrepeneur
Kevin Kumala is an entrepreneur, researcher and adrenaline-seeker. His love for water sports like surfing and diving, and his resulting frustration with the amount of plastic pollution in the ocean, led him to find a sustainable solution to one of the world's foremost waste issues. Inspired by innovative bioplastics made from corn and soy starch, Kumala drew on his education in biological sciences to create a new "plastic" bag made from cassava starch, which is 100% biodegradable, compostable, non-toxic, and even edible. In December 2016, a video of Kumala dissolving the bag in a glass of warm water and drinking it went viral. Today, his company Avani Eco produces a variety of compostable bioplastic products such as bags, food packaging and hospital bed covers. Kumala believes that is the responsibility of youth today to make the Earth a cleaner, greener place for future generations through thoughtful, socially impactful solutions.
Monitoring and Evaluation Specialist
A Jakarta native based in Bali, Lana Kristanto has studied interdisciplinary decision sciences in the US, Germany and the Netherlands. Upon returning to Indonesia, she channeled her passion for development and sustainability into working for Kopernik, an Ubud-based non-profit organization focused on innovative poverty alleviation solutions. At Kopernik, Lana measures the impact of the organization's flagship Wonder Women initiative, which aims to expand access to clean energy technologies in Indonesia while promoting gender empowerment through income opportunities for women in rural areas.
Puppeteer
I Made Sidia is one of Bali's most highly acclaimed wayang (puppet) artists. Trained as a classical dalang, Made is also an accomplished topeng (mask) dancer, choreographer, gamelan musician and teacher. He graduated in 1992 with a degree in Balinese Theatre from the Indonesian State College of Arts, and in 2010 he was received an MFA from the Indonesian Institute of the Arts in Solo for Theatre. A passionate advocate for merging traditional and contemporary arts practices, Made is as an expert in contemporary wayang kulit (shadow puppet), and his contribution to Balinese culture has been recognised worldwide. He has worked with artists throughout Indonesia and internationally, and currently teaches as a senior lecturer at the Performing Arts College in Denpasar, Bali. He is also the Principal of Sanggar Paripurna, a performing arts school in Gianyar, through which he trains artists in his local village, and he leads workshops around the world in traditional Balinese art forms. He also
Tika & The Dissidents
Band
In 2009, they first declared themselves as Tika and the Dissidents in the original soundtrack album of Joko Anwar's film Pintu Terlarang. After a two-year recording process, Tika and the Dissidents' full-length album the Headless Songstress was released in July 2009 under the Head Records, a record label owned by the band. Much to the band's surprise, the Headless Songstress received numerous praises from music fans and the media, both national and international. TEMPO magazine awarded the album "Album of the Year 2009" and the band as "2009's Chosen Music Figure". Their album "Merah" made Rolling Stone Indonesia's list of 2016's 20 Best Albums.
Scientist + Mosquito Whisperer
Trudy Rilling-Collins, better known as "The Mosquito Lady", is the founder of a global consulting company dedicated to replacing chemical pesticides with environmentally responsible solutions. Rilling-Collins studied biological insect-control at U.C. Berkeley and researched mosquitoes before becoming a high school science teacher and County Science Specialist. While living in the Maldives, where toxic fumigation chemicals are sprayed across the island three times a day, she founded "Mosquito Lady Solutions" as an environmentally conscious alternative to common pesticides. Rilling-Collins' passion for science and the environment continues to shape her career path.