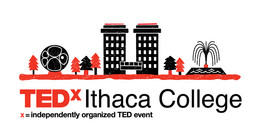 The purpose of TEDxIthacaCollege is to allow brilliant ideas to come to life. As a community we have much to offer one another. From our stories to our innovations, TEDxIthacaCollege is about collaboration between discovery and interconnectivity of self. We are seeking speakers that are passionate about their ideas (whatever it may be) for TEDxIthacaCollege 2017. A goal of TEDxIthacaCollege is to spark conversation that will lead to action.
In the spirit of ideas worth spreading, TEDx is a program of local, self-organized events that bring people together to share a TED-like experience. At a TEDx event, TEDTalks video and live speakers combine to spark deep discussion and connection in a small group. These local, self-organized events are branded TEDx, where x = independently organized TED event. The TED Conference provides general guidance for the TEDx program, but individual TEDx events are self-organized (subject to certain rules and regulations).
Speakers
Speakers may not be confirmed. Check event website for more information.
College Adjunct Faculty Member/Public Affairs
Ann-Marie Adams loves words, written and spoken. She is a natural storyteller with nearly two decades of experience in public engagement. Her academic pursuits in strategic communication are focused on the evolution of discourse. Her creative collections include Word Strings, an inspiring collection of short, candid insights that delve into life's emotional complexity. A potpourri of every-day wisdom, bite-size quotations and simple social shares, "Word Strings" frames relatable life concepts, such as aging and leadership, with comforting narrative that reflects upon both modern society and the struggles and joys of living. Currently Ann Marie splits her time between the Lowcountry region of South Carolina, the Finger Lakes region of New York, and East Tennessee to teach, write, and porch sit.
Business and Life Coach
Ariana Blossom is a business and life coach, focusing on supporting women executives and small business owners who want to handle stress and conflict like a BOSS. Her experience ranges from boosting female membership in a business incubator from 0-48%, leading executives through leadership training, and coaching small business owners to define their businesses.
Charlotte Robertson
Ithaca College Student; Political Researcher
Charlotte Robertson is a senior Communications Management and Design major in the Park School of Communications. Last spring, Robertson studied with the Cornell in Washington program in Washington, DC. There, she completed extensive research on white women who voted for Donald Trump in the 2016 elections. Charlotte has a deep interest in politics and has interned at the Democratic National Committee and Priorities USA, a major Democratic super PAC. At Ithaca College, she is an active member of the Student Government Council.
Speaker, Small Business Strategist and Founder, The Collective (of Us) + The Community (of Us)
CYNDIE SPIEGEL is a Brooklyn-based small business consultant, coach, and speaker. She is also the founder of The Collective (of Us), a small business accelerator for women and The Community (of Us), an online hub for conversation and change-making community. She is on a mission to empower 100,000 women to build BOLD businesses by the year 2020. Her straight talk and visionary perspective on creating women-owned businesses, overcoming imposter complex and embracing fear; inspire women globally to build bold, profitable businesses. She is a sought-after speaker for creative conferences around the country and has been featured in Entrepreneur, Forbes, Glamour Magazine, Teen Vogue and The Huffington Post.
Senior Web Strategist at Ithaca College
Dave is an Ithaca College alumnus, and a core member of the college's web team, where his work focuses on understanding how people use websites, and exploring how digital technology impacts human experiences. Relentlessly curious by nature, Dave's been a musician and writer, then worked in films, comedy, theater, television, festivals, and special events before settling in Ithaca over a decade ago. When he isn't reading or practicing slight-of-hand magic, you can find him and his wife enjoying local foods and culture of New York. He is an award-winning keynote and conference speaker, and writes and shares new insights about how to be a better human.
Edd Schneider
Assistant Professor
Dr. Edd Schneider began his professional career teaching in the New York State prison system before returning to college to get his Ph.D. from Indiana University. As an Assistant Professor in the Communication Management and Design program at Ithaca College, he teaches courses on visual communication and the design of new media. Dr. Schneider's research focuses on design and application of comic books and video games to solve problems in education. He is originally from Beekmantown, New York and lives in Ithaca, NY with his wife and three children.
Elena Piech
Student
Elena Piech is a content creator. She's written for The Ithacan, produced radio pieces for WICB, reported for ICTV, and been involved with a myriad of other multimedia outlets. Elena is also a Campus Ambassador with GLAAD, a nonprofit media monitoring organization. For Elena, her relationship with media is a rather personal one. When it came to realizing her sexuality, Elena turned to media as a way to gain exposure and information about the LGBTQ community.
Eliza Wildes
Student
A History Major with minors in Education, and Women's and Gender Studies at Ithaca College. They are also involved with ZAP panels, the Macabre Theatre Ensemble, and the History Clubhere on IC campus. They are from Groveland, Massachusetts. They plan to continue their studies in Education to become a teacher and one day go into educational policy and reform.
Farwa Shakeel
Student
Farwa Shakeel is a sophomore International Politics and Economics double major. On campus, she is the Student Governance Council's Senate Chair, Co-President of Amnesty International, and is part of the Model U.N. team. Farwa enjoys foreign policy and Latin American politics, but today she brings her personal story of depression to the stage. Trigger warning: this talk is regarding mental health and illness.
Student Researcher at Ithaca College
Grant is a psychology major, film major, and neuroscience and chemistry double minor. He is a member of the Park Scholar Program and the Ithaca College Honors Program. Grant is working on his Honors Thesis, which uses brain imaging and eye tracking technology to study how people watch movies. Grant's essay, "Warped Space-Time: Exploiting Schematic Assumptions in 'Ritual in Transfigured Time,'" received the Park School Student Writing Award. This paper uses psychological theories to analyze the editing of an avant-garde film. It was one of 30 essays from around the world selected for presentation at the 2017 Society for Cinema and Media Studies Undergraduate Conference, the world's most prestigious undergraduate media studies conference. It will also be published in Film Matters, the preeminent undergraduate academic film journal. Grant also is involved in media-related service programs, volunteers at Cayuga Medical Center, and is the vice-president of Ithaca College's Club Swim Team.
Graduate Student
I am in my final year of graduate schooling on my way to obtaining my Doctorate in Physical Therapy with the goal of becoming a traveling therapist. I have a zest for life and a passion for working with people. I approach each day thinking of how I can contribute to the people in my community by cooking, cleaning, baking, car and home repairs, manual labor, pet care (especially dogs!), exercise advice, nutrition advice, giving words of encouragement, and/or just bringing a positive presence! I enjoy living symbiotically with the people that bring me joy. In my free time, I enjoy playing basketball, being outdoors, dancing, and spending time with family, friends, or my loving partner, Dylan.
Kyle Stewart
Journalism Major, Ithaca College
Kyle Stewart is a senior at Ithaca College, focused on journalism and economics. He has spent a considerable amount of time in Washington, D.C., learning the ins and outs of politics on a national stage. He is working toward a career in broadcast and documentary journalism, hoping to tell real stories in a compelling fashion. Stewart is a history buff and is currently working on the presidential biography challenge, in which he plans to read a book about every U.S. president. Stewart is originally from Troy, New York.
Madeline Horowitz
Aspiring Health Education and Physical Education Teacher
Maddy is a junior health education and physical education double major from Rochester, NY. She currently works at the fitness center, and is in IC's chapter of Active Minds where she's previously held the title of "Speak Your Mind" co-chair. Maddy is also the president of Women's Club Volleyball, and Vice President of the Health & PE Major's Club.
Michael Barbera
Consumer Psychologist
Michael Barbera is an award-winning consumer psychologist and strategy consultant for Fortune 50 companies. He is a business psychologist who is involved in both practical and academic endeavors. His areas of practice are consumer behavior, consumer emotions, social psychology, decision-making, brand management, marketing, and long-term business strategies. Michael is currently employed as the CEO of Barbera Solutions. His clients can be found on the Fortune 50 list and several television programs show as ABC's Shark Tank and Bravo's Million Dollar Listing. Michael shares his research and experiences as a keynote speaker for public and private organizations, and as the host of the Clicksuasion podcast. In 2015, the White House recognized Michael for his contributions to entrepreneurship. This work includes development and validation of consumer emotions, consumer behavior, product placement, consumer experiences and business growth strategies.
Peter Westacott
Psychology & Sociology Student, Center for Research on the Effects of Television (CRETV) Researcher
Peter Westacott is a senior psychology and sociology major at Ithaca College. He is involved with a research team in the Psychology Department called the Center for Research on the Effects of Television (CRETV), directed by Cyndy Scheibe. He has been awarded membership to Psi Chi, the International Honor Society in Psychology in 2017. Peter has always been passionate about advocating for equity, especially on topics of race, gender, and sexuality. He hopes to use both his degrees post-graduation to continue his vision for equality.
Roswell Ecker
Student Ithaca College '18
Roswell is a senior Sociology major at Ithaca College. They panel regularly for two groups on campus; ZAP (in which LGBTQ+ students talk about their experiences) and Speak Your Mind (in which students talk about their experiences with mental illness in an effort to end the stigma surrounding it). Their other interests include cryptozoology and ufology.