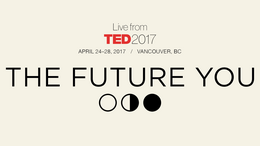 Most TEDs are focused on the world at large and the ideas that animate it. But for 2017, we want to make it more explicitly personal. We are planning a week of talks that can offer each of us individually a toolkit for personal learning, growth, empowerment.
And we're not talking soft-edged self-help woo. We're talking about questions like:
How is it possible to give my reflective self power over my instinctive self?
Can I use technology to limit my addiction to technology?
Which inventions will have a big impact on me over the next few years?
How can I become a transformational leader?
What are the medical discoveries I absolutely need to know about?
What skills can my kids build that are future-proof?
How do we design an environment that is nurturing, human, satisfying, exciting?
What does success look like, without self at the center?
Who am I?
微信公众号 / WeChat M.P.: TEDxYTU
微博 / Weibo: @TEDx烟台大学
推特 / Twitter: @TEDxYTU
QQ: 3592495950