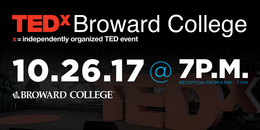 TEDxBrowardCollege 10.26.2017
The theme this year is EVOLUTION: ACTSS (Arts, Culture, Technology, the Science, and Society). Student speakers are encouraged to develop a speech that demonstrates an evolution of self and/or any discipline as it relates to the Arts, culture, technology, the sciences or society.
For more information, please contact us at TEDxBrowardCollege@Broward.edu
Speakers
Speakers may not be confirmed. Check event website for more information.
Andrea Arce
Student at Broward College
Andrea Arce grew up in Hallandale, Florida where she did not only become a proud Floridian, but she grew a passion of sharing the idea of the American dream. Since she was a little girl, her parents influenced her to dive into music, culture, foreign languages, and sports. By the age of five years old, she was a classical pianist who thoroughly enjoyed the techniques of Tchaikovsky, the passion of Beethoven, and the softness of Debussy. Despite her petite body, she became a black belt in Kenpo Karate where she fell in love with the discipline and the commitment. Her cultural surrounding continued to expand around her as she was enrolled in French, Chinese, and Russian classes at a very young age. Her adoration and respect for foreign languages, religions, and cultures developed every day. her comfortability and flexibility on stage to speak for those who do not have a voice. In January of 2017, she launched a nationwide project to find individuals who are undocumented.
Claudia Diaz
Student at Broward College
Claudia Mariann Diaz Millan was born and raised in Venezuela. She is a sports enthusiast and an eager video gamer. She is a student at Broward College with a passion for micro-learning and language. She learned to speak English in her native country by watching television, listening to music, and going to the grocery store. Politics, the economy, and social changes forced her to make the decision to come to the United States in pursuit of academic enrichment and a better life. She chose to work on her English by enrolling in Lingua Language Center. It is at the Language Center that she and her classmates were motivated to create a mobile application—an English language micro-learning app that helped her to understand the way learning happens. She believes ideas will remain only ideas if they are not shared. She shared her ideas with Lingua Language Center and now it is a tangible resource for their students.
Edward Cornejo
Historian, Counselor, and Professor at Broward College
Dr. Cornejo, a professor at Broward College, has 30 years of educational experience and degrees in Psychology, Counseling, and History. His doctoral research has focused on Ecuador's 20th century efforts to combat bubonic plague, but his interests are varied: philosophy, theoretical physics, photography, art, travel, and the observation of human nature. As an educator, his main focus is to challenge his students to aspire for more than what they might have previously imagined. He has been honored by the President of the Borough of Queens (New York), received numerous awards for his involvement in Student Life, granted Honors Travel Awards, and - through the SunTrust Foundation – has been the recipient of an Endowed Teaching Award. He is currently working on learning ceramics and fine arts and hopes to put his musings and ideas into book format in the near future.
Author/International Speaker/Adventurer
Heidi Siefkas (pronounced Seef-kas) is an awarding winning author, international speaker, and adventurer with a powerful story that inspires others to overcome obstacles and live an adventurous life. Her books include When All Balls Drop, With New Eyes, and Cubicle to Cuba. Both interactive and entertaining, Siefkas' style is down-to-earth with just the right dose of humor and perspective. To learn more about Heidi, visit www.heidisiefkas.com or connect on Facebook, Twitter, and/or LinkedIn.
Jan Spence
Consultant and Business Coach
Jan Spence is the CEO and owner of TwelveEleven, Inc. dba Jan Spence & Associates located in Jacksonville, FL. She has been the keynote speaker and trainer on various topics. She is a business consultant and a business coach. Jan Spence is high-energy communicator with a unique ability to move people to action. She is passionate about sharing knowledge that makes a difference in people's lives. As a consultant and business coach, Jan is passionate about helping people reach their potential and fulfilling their God-given purpose.
Kayla Friedland
Student at Broward College Academy
Kayla Friedland is a 16 year old who is currently enrolled in the program College Academy at Broward College. She has encountered various obstacles in her life, which she feels prepares her as a speaker. She is extremely passionate about publicly discussing issues. She is involved with Model United Nations and Debate, and she is the President of the Philosophy Club at Broward College Central campus. She is passionate about teaching others different ways of thinking as well as encouraging others to truly find their own avenue, not just the way society or their family forces upon them.
Natasha Terry-Ulett
Adjunct Professor of Speech at Broward College
Natasha Terry-Ulett is currently an Adjunct Professor at Broward College where she teaches public speaking. She wants to make a positive impact in this world. She has participated in a number of volunteering activities throughout her life. In addition to over 10 years of management experience and 25 years of volunteered service, she has conducted over 200 workshops. She has witnessed the positive effect volunteering has had on her life and that of others. She wants others to know how they can make a difference.
Reuben Rifin
Director of Special Projects at Florida Memorial University
Reuben Rifin M.Ed. is currently the Special Projects Coordinator at Florida Memorial University. He is the son of a minister and a nurse. Born to immigrant Haitian parents, he values education. He feels he understands the importance of spreading knowledge garnered via education to those who may not have the means to do so themselves. His goal is to uplift, to speak life and to share the importance of a holistic education for minorities with the implications of inspiring the masses to strive for greatness in every human endeavor.
Creator, owner, and director of DanceTuLyfe
TUERE AISHA aka TuLyfe is the creator, owner, and director of DanceTuLyfe, an enterprise that specializes in all things dance and dance-related. DanceTuLyfe seeks to empower, educate, and inspire both dancers and non-dancers. Its online operation, DanceTuLyfe.com, entertains and informs dance enthusiasts, and serves as a virtual partner for dancers of all levels. Its newest initiative – SpeakMovement – marries dance with Spoken Word to create a new genre in which word sound and body movement coexist as one body of poetic work. By way of DanceTuLyfe and its various programs, TuLyfe showcases dance as a vehicle for navigating individual challenges, celebrating success in its many forms, and embracing inevitable change.
Victoria Mohan
Student at Broward College
Victoria Mohan graduated from McArthur High School in 2016. She is currently working on her Associates in Arts at Broward College. She is passionate about photography and communication. She has worked as the Photography Editor for P'an Ku, Broward College's Literature and Arts Magazine from January 2017 to March 2017. She has also had her photographs published in the spring 2017 issue of P'an Ku. Victoria Mohan believes that a world with better photographs will be a world with more appreciation and less stress, more expressiveness of self and a deeper understanding of one another. She also believes that, with photographs in our lives, we can have more innovation and the success that is sure to follow suit.