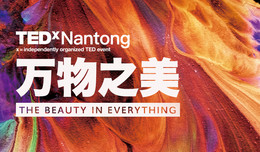 Being so familiar with everything around us, we may not event take notice of the beauty in them. What if.......we see them with a different eye?
Speakers
Speakers may not be confirmed. Check event website for more information.
Garrett Ge
Assistant Lecturer of ANU
a member of the British Association of Higher Education; elected as the Merit Youth of Jiangsu Province in 2014; studied at ANU College of Business & Economics for Bachelor's and Undergraduate's Degree and now works as an Assistant Lecturer there; involved in volunteering for six years.
Jingxin CHEN
Postdoc, assistant researcher
Chen Jingxin, got his Ph.D degree of Archaeology and Museology at Peking University, being a postdoc and assistant researcher at the Cultural Heritage Research Institute of Zhejiang University, being a visiting scholar at Rutgers University in America. He mainly works on archaeology research about religion and art. He was involved in basic investigation, record and mapping of research projects like China-India cave temple, cave statues and temple murals in Southwest China as a member or an organizer. Chen Jingxin, Ph.d of Archaeology at Peking University(PKU), senior archaeologist
Lucy LU
an independent fashion designer, style tutor, musician
a multilingual, independent Chinese designer; a fashion & luxury consultant; a promoter of fashion & luxury culture, with years of studying and working experience in European countries (France, Austria, Italy, etc.); willing to give lectures concerning art, creativity, fashion and luxury; in charge of many transnational art & luxury programs after she returned to China; a chanson musician as well.
QingYi Li
a junior school student; a member of Nantong Small Animal Protection Association
a fourteen-year-old junior school student; a member of Nantong Small Animal Protection Association; has a wide range of interests, actively engaged in not only physical activities ( swimming, long-distance running) but also cultural ones (painting, drama-performing; especially being keen about Greek mythology and art history); an organizer of the "Love My City, Offer My Kindness",a bazaar for pet-adoption and charity sale; designed T-shirts to raise money for animal protection; works closely with overseas animal protection organizations; calls for more people showing respect for these lovely creatures and contributing for the great course.
Ryan Pyle
Adventurer | TV Host | Speaker | Author
His Chinese name is Bai Ruiyun; a host, program producer, photographer and explorer; as a photographer, he has been a regular contributor to major media including "Time", "Newsweek" and "New York Times"; listed by PDN Magazine as one of the 30 Emerging Photographers around the world in 2009; as a professional explorer, he has set foot on many fantastic places; as a host and producer, his TV shows, such as "Extreme Treks Series" and "Rough Rides Series", have reached millions of viewers across the globe, available on BBC, Discovery Channel, Netflix, YouTube, Youku and iQiyi.
XiaoXing Wang
Director of the Xuanhe Ke-ssu Crafts Research Institute
Born in Nantong, Jiangsu; director of the Xuanhe Ke-ssu Crafts Research Institute; a revivalist and inheritor of original Kesi(also called Chinese silk tapestry) production
Organizing team
Bang Dian Zheng

Team member

Bowen Zhu

Team member

Chen Xinyu

Team member

Huang Qingxia

Team member

Jueimei Ma

Team member

Jun Qian

Team member

Karena Kong

Team member

Nan CHEN

Marketing/Communications

QIAN xinrui

Team member

Qianru Wu

Team member

Rui Zhang

Marketing/Communications

Tianqi Chen

Team member

tianyue tang

Team member

wang ye

Marketing/Communications

Weijia Ding

Team member

weiling Xu

Team member

Xiang GE

Production

Yangyaxi Zou

Team member

Yiqiong Yan

Team member

YiTeng Lin

Team member