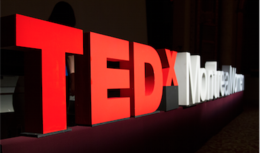 In the spirit of ideas worth spreading, TEDx is a program of local, self-organized events that bring people together to share a TED-like experience. At a TEDx event, TEDTalks video and live speakers combine to spark deep discussion and connection in a small group. These local, self-organized events are branded TEDx, where x = independently organized TED event. The TED Conference provides general guidance for the TEDx program, but individual TEDx events are self-organized (subject to certain rules and regulations).
Speakers
Speakers may not be confirmed. Check event website for more information.
Divi Chandna
MD, Teacher & Health Enthusiast
Dr. Divi Chandna is an MD, teacher & health enthusiast to her core. Dr. Divi graduated from medical school at the University of Western Ontario and then pursued residency in family medicine at McMaster University. After moving to Vancouver, BC, she thought she had reached all of her dreams – medicine, marriage and a bright future. It was then that her own health nose-dived. She became ill with chronic health conditions that classic medicine could not treat. At the young age of 28, she was baffled. Her journey to healing began when she looked outside of medicine. The next 15 years were spent searching and understanding healing from a holistic perspective. Dr. Divi now understands that the body can heal within itself. Dr. Divi opened and runs the College of Mind Body Spirit Medicine. This On-Line College offers students a chance to learn how to heal themselves & teaches people how to guide others.
Lynn Rheault
Osteopathic Practitioner
Lynn is an Osteopathic Practitioner happily working in Vancouver, British Columbia. She holds a Bachelor of Science in Osteopathy from Wales University in the UK and a Bachelor of Arts in Psychosociology from the University of Quebec in Montreal. Lynn has been an Osteopath for 10 years and continues to bring balance and centered states to her patients daily. Lynn has a great zest for life and is constantly searching for new learning opportunities and celebrating the beauty that lies within each of us.