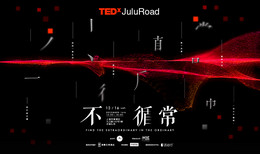 "Some people feel the rain, others just get wet."
With the endlessly pursuit of financial success, status and power, we often forget to appreciate the beauty in our daily lives.
Let's open our eyes and hearts, join the speakers on a journey of discovery, and find the extraordinary in every aspect of our ordinary lives.
Speakers
Speakers may not be confirmed. Check event website for more information.
Fiona Shang
Quitting her job in luxury industry, Fiona spent her year exploring the world, learning about how cultures shape our values, and how we can create connections despite our differences.
Mu Mu
Mumu has been researching about sexuality liberation and development in China. He has started his own pleasure equipment company.
No 223
No 223's work portraits the frustration, contradiction and confusion of young generation in China. His work has been exhibited all around the world.
倪 子
ZiNi is a passionate chef and entreprenuer who insisted the human way of cooking. She dedicates her career to make innovative cuisine while protecting the environment and animal rights.
印陶 冯
Yintao is the founder of a creative workspace, remodeling old buildings for start-up businesses.
洛伟 许
Executive of Hotel Chain, Luowei explores the world culture through hotels.