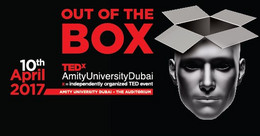 In the spirit of ideas worth spreading, TEDx is a program of local, self-organized events that bring people together to share a TED-like experience. At a TEDx event, TEDTalks video and live speakers combine to spark deep discussion and connection in a small group. These local, self-organized events are branded TEDx, where x = independently organized TED event. The TED Conference provides general guidance for the TEDx program, but individual TEDx events are self-organized (subject to certain rules and regulations).
Speakers
Speakers may not be confirmed. Check event website for more information.
Body Artist + Mind Boggler
24 year old Alicia is an insanely talented artist based in Dubai, who expresses her art in mindboggling forms; including jaw dropping transformations, hilarious caricature portraits, creative faces, body art & much more. She was famously mistaken for former One Direction band member Zayn Malik after she transformed herself into the star and strolled through the Mall of the Emirates, flanked by bodyguards.
Idriss Al Rifai
Entrepreneur + Innovator
Entrepreneur + Innovator Idriss Al Rifai is an entrepreneur who is passionate about disrupting the middle east retail market with technology and customer centric solutions. He optimized a last mile delivery solution specifically for the e-commerce needs & requirements in the Middle East with his company Fetchr. Idriss holds an MBA from Booth School of Business. He is also a Rath and Fulbright scholar and Endeavor entrepreneur.
Chameleon = Standup Comedian + Journalist + Activist + Radio Jockey + Entrepreneur
Career paths are fluid, rather than linear, as Rohit Jayakaran has proven in his various incarnations. His career is as 'diverse' as TEDx Talks are known for: comedian, radio personality, inventor, journalist, traveler, photographer, and now Arabian Radio Network Digital Director.
Social Entrepreneur + UN Delegate + Paradigm Shifter
At the age of 18, her CV is much thicker than most of us out there. She is the Co-founder & CEO at 'Step Up Dubai' – a platform for youth, by the youth. She is also a UN Delegate at the Youth Assembly of United Nations (2016-) & UN Global Goals for Sustainable Development (2016-); Brand Ambassador of Protect Your Mom Campaign; Prestigious Diana Award holder for Champion Volunteer and much more. Being an active member in almost 75 organizations, she is well trained in sign language and spends most of her time volunteering or setting up local and global social projects. She spends so much time helping others, her parents have had to remind her not to forget her homework.
C-hief E-ndurance O-fficer + Adventurer
For Tom Otton, running marathons & scaling mountains is all part of a desire to squeeze as much life as he can out of his journey. MD at a digital communications agency, Create Media Group by day, one of his recent encounters saw him running 250km across the Sahara Desert, all for a cause. The endeavour was part of Tom's work in supporting the Larchfield Kids Orphanage in Tanzania, a charity set up by a fellow Dubai expat to support orphans in the East African country.