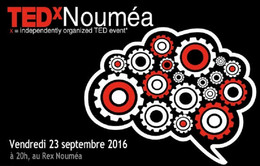 It is the first edition of TEDxNouméa!
The event will take place in the cinema Le REX-Nouméa, on September 23th, from 20:00 pm to 22h30 pm.
TedxNouméa in figures is :
· 6 persons in the organization Committee, who dedicated their free time to build the TEDxNouméa project, keeping in mind an independent spirit ;
· 8 speakers who were selected since December, 2015 and who accept to be trained with intensive coaching since July, 2016
· 7 sponsors who supports the local event and 2 non-profit organizations working together to support this project
· 6 professional staff for video and audio catching, photography, lighting, …
Speakers
Speakers may not be confirmed. Check event website for more information.
Bernard Balet
Bernard est un inventeur de génie. C'est un rêveur, mais il a grandi les pieds bien ancrés dans le sol et s'est mis comme défi de proposer des solutions simples à des problèmes compliqués.
Gabriel Levionnois
Gabriel est un passionné de cuisine. Il est gérant d'un restaurant de Nouméa, en Nouvelle-Calédonie. Mais il est aussi engagé dans la vie associative pour faire changer les habitudes autour de l'alimentation.
Guilhem Chamboredon
Guilhem Chamboredon vient d'avoir 14 ans. Il est au lycée mais en dehors de son parcours scolaire, c'est un touche à tout, passionné de cinéma, plusieurs fois jury de festival. Il a déjà réalisé plusieurs films courts. Il dessine, il écrit, il s'essaye au street art. Rien ne l'arrête.
Jérémy Anso
Jérémy est docteur en biologie.
Léa Fisher
Léa Fisher (alias Célia Chabut) est une conférencière atypique. Elle aborde des sujets variés souvent en lien avec les relations amoureuses ou encore la vie en couple, toujours abondamment illustrés par sa propre vie, ses propres expériences. Ces conférences sont de ce fait extrêmement inspirantes.
Simanë Wenethem
Simanë Wenethem est né à Lifou, une des îles Loyauté, en Nouvelle-Calédonie. Kanak, guerrier béni, c'est un artiste multi-facettes.
Stéphane Bouquillard
Stéphane Bouquillard est titulaire d'une thèse professionnelle sur le tourisme en Nouvelle-Calédonie.
Warren Naxue
Warren Naxue est un jeune Kanak, issu du peuple autochtone de Nouvelle-Calédonie. Travailleur social, engagé dans la vie associative, il cherche des solutions pour améliorer la compréhension entre les peuples qui vivent en Nouvelle-Calédonie.