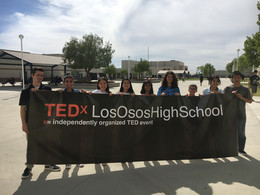 TEDxLosOsosHighSchool will take place on April 15, 2017, from 9:30 AM to 2:00 PM. This event will feature TED talks on a range of topics delivered by students and graduates of Los Osos High School. The event will take place in our beautiful theatre, and will include musical performances and delicious food!
Speakers
Speakers may not be confirmed. Check event website for more information.
Akamjot Kaur
High School Student; Henna Artist
My ted talk topic is about the art in henna. I want to tell people about the cultural events that are associated with henna and we how they use henna. This will tell people more about other cultures and how there is different art in henna, and it is not just a tattoo.
Arlando Mba
UCLA Undergrad; Identity Specialist
Echama Arlando Mba is a student at UCLA. The title of her Ted Talk is The Power of Self-Perception. The reason Arlando chose this topic is because she is interested in identity, how we come to terms with our own identity through introspection and the world around us. In her spare time she likes to read, write scripts and plays, watch plays and movies, perform and exercise.
Bryce Araiza
High School Student; Oculocutaneous Albinism Expert
I am Bryce Araiza, a junior in high school. As someone who has Oculocutaneous Albinism, I live everyday as someone who isn't exactly like everyone else. I believe we as a society can change how people view and treat people like me and others that have disabilities that make us a little unique. I want to discuss what it is like to not "be normal" in society, the pressures it puts people like me through, and how we as a people can battle these challenges. I also want to discuss how everyone can help contribute to making society much more accepting and welcoming.
Cayla Kimes
High School Student; Educational Arts Specialist
Cayla Kimes is a high school junior. Since her freshman year she has been very involved with the school's art programs, most notably drama and choir. In her spare time, she enjoys singing and acting and has appeared in productions at her high school and also nearby community theaters. She hopes you will enjoy her talk, "Why the Arts Matter".
Hailee Allen
High School Student
Hailee Allen is a junior in high school. She has many hobbies, including debate, acting, singing, and drawing! She joined her high school's Debate team, which she loves, and is interested in theater arts ever since she was little. In Hailee's empowering talk, she questions what it truly means to "be enough." In the increasingly competitive, fast-paced society that we currently live in, we often forget our value. Sadly, it is incredibly common to make the mistake of comparing ourselves to prominent figures in major media. We admire their success, and sometimes believe that we can never be as great or talented as they. The habit of making ourselves less valuable because the feelings of self-doubt hinders our ability to grow. Hailee encourages the audience to look past these negative perceptions of life, and to start recognizign that perfection is nonexistent. There may be billions of people on this earth, but there can only be one you. Embracing who you are now creates a positive mind.
Jennifer Hale
High School Student
My name is Jennifer Hale and I am a high school junior. I was born in Upland, California, but have spent my whole life in the beautiful city of Rancho Cucamonga. My family, friends, and school come first and I enjoy expressing my thoughts to anyone who will listen. My talk is called "What No One Ever Taught Me" and it is about the importance of listening to life when it is telling you something. I am super passionate about making your own destiny and experiencing life to its full capacity so I hope that through this talk people can start to understand that life is the greatest teacher of all.
Lissette Nava
High School Student
Hello my name is Lissette Nava, I am currently attending high school as a junior. The title of my Ted talk is "How Cambodia changed my Life." This past summer I had the opportunity to travel to Cambodia and I will be explaining how visiting this third world country has forever changed the way I act and fellowship with people. This country has also shown me the value of allowing yourself to be thankful for the life you have been blessed with. The Khmer people are a very genuine, joyful nation; I would love to have the privilege to show a piece of their culture and love to you. Thank you so much, be blessed.
Mario Zarate
High School Student; Education Revolutionary
I'm Mario Zarate. I'm a high school senior and I absolutely love out-of-the-box thinking. I uphold the sort of ideas that force an audience to disenthrall themselves from conventional, systematic approaches to the anguishes they face in daily life. The name of my talk is "Education Revolution," and it is about the problems I have experienced with our education system, a system which needs to be radically revolutionized using out-of-this-world thinking, and an open mind.
Noor Tabba
High School Student; Identity Specialist
My name is Noor Tabba and I'm a high school junior. I've been on my school's Speech and Debate Team for three years, and Mock Trial for two. I'm president of the Muslim Student Association, and I think I want to be a lawyer. I love travel and different cultures, and I think seeing the world is one of the most important things out there to do in life. I hope you enjoy my poem "Red, White, and Blue."
Riley Johnson
High School Student; Color Psychology Specialist
Riley Johnson is a junior in high school and loves acting, drawing, painting, and writing. When it comes to art, she frequently uses color psychology to achieve certain effects with her pictures. She hopes you all find a topic as simple as colors to be interesting.
Savannah Rios
High School Student; Anti-Bullying Specialist
My name is Savannah Rios and I am currently a Junior at Los Osos High School. My talk, "Words Can Hurt" is going to focus on the aspects of bullying and how this can impact a student. This topic is important to me because it allows me to share the experiences I have had with bullying. I will share mine, along with other students personal stories on bullying and show the data behind the effects of bullying. My main goal of the talk is to show how my past shaped me and gave me the will to persevere and devote myself to anything that I attempt.
Sophia Yanez
High School Student; Artist
My name is Sophia Yáñez. I am in the eleventh grade, a junior in high school, and the title of my TEDx talk is "The Artistry of Child Development." The arts have always been a very important focal point of my life, so I was curious to see what effect they may have had on my development—the way that I turned out—versus other kids who did not have such experience. This is not an exact science, but the studies that I researched were captivating. The fact that just taking an hour out of a child's day every day to paint or to dance or to sing may impact their future success is intriguing to me. So I am here today to share my knowledge, make an impact on the way that people shape their lives, and hopefully give some a newfound appreciation for the arts.
Stephanie Elliott
High School Teacher
Stephanie Elliott is a word-loving native of Rancho Cucamonga whose passion for seeing the world through the eyes of others has led her to a career as an English teacher and leadership advisor. She believes everyone has a story to share and by celebrating each other's voices we encourage greater love and acceptance for us all. She delights in sunshine, writing poems, and the search for the perfect avocado.
Tim Ward
Educator
Tim Ward is a student-centered educator with many years experience as a high school teacher and administrator. He recently retired from the Chaffey School District after serving as Assistant Superintendent for Instruction, and is now a world traveler. Mr. Ward's talk explores the idea of what it means to be your best.