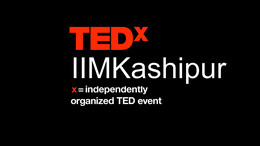 "The biggest obstacles in our lives are the barriers our minds create." And it is this constant struggle to break this barrier down that makes a man. Once, India believed, it was meant to be ruled by the foreign. But then came the relentless vigour of the freedom movement that broke down the shackles of servitude. Once, the world believed, man could conquer the heavens. And on July 29, 1969, Neil Armstrong took "one small step for man, a large step for mankind" and conquered the heaven. God said, "Let there be light" and Edison gifted the world the light bulb. Someone in long forgotten history discovered fire, wheel, the art of metallurgy and many more things that have culminated into the comfortable, enjoyable life that we lead today. And barriers did not exist only in the field of scientific development. Many more existed in the very society we live in. From the fight against apartheid of Mandela, the fight for women suffrage of Miss Stanton to the music of blues, the dance of the Maois, the success of Warren Buffet and many more are the reality of our existent lives as they broke down the barriers that held them back from ushering into a new era.
It is often said that "the difference between impossible and possible lies in a man's determination", and it is this determination that breaks the barrier, the yoke of the times and brings forth the harbinger of a better tomorrow.
It is in the light of this realization, IIM Kashipur brings to you the theme for TEDxIIM Kashipur 2016, "Breaking Barriers"
TEDxIIMKashipur started in the year 2014. It was based on the theme "Ideas in Action". The 2014 edition was a grand success, drawing in dignitaries and speakers from multitudes of domains, professors, faculties and a few select students. The event was a success on the digital platform as well, garnering likes and views on both Facebook and YouTube alike. The audience was mesmerized by the TEDx talks delivered by the nine distinguished speakers at the event, each a stalwart in her / his own chosen field of interest and each corroborating the theme of the event, let it be Arun Krishnamurthy's 'Conservation through revival of Lakes' or Reena Dharmsktu's 'Skiing to the South Pole'.
TEDxIIMKashipur 2015 saw the theme "Actions Bring Change." This time it was bigger and had a far greater reach in terms of the audience, the like and the views on various digital platforms. From Jacob Matthews' 'Creative Entrepreneurship', Prof. T.K.Dutta's 'How BioTech Can Transform Dairy Farming', Masha Nazeem's take on serial innovation, Kishor Bali's stand on social issues, Sameer Mishra's journey from being an IIT grad to being a film maker, Azhar Iqubal approach to news in sixty words to Subham Dharmsktu's journey of 'Living while Travelling', it was an immersive, inspiring and invigorating experience indeed.
The stage is set for the third edition of TEDxIIMKashipur. This time around, we are bringing in more inspiration, more innovation, and more stories that tells us to break ourselves out from the confines of the walls around us and break the barriers. Continuing our journey from 'Ideas in Action' to 'Actions Bring Change', and from there to 'Breaking Barriers', TEDxIIMKashipur 2016 is chartering the story of man's will to make a difference to this world. Continuing to focus our attention on those exceptional minds, who had resorted to unconventional ways to transform their 'Ideas in Action' and 'Actions Bring Change', this time around we have with us eminent speakers who have changed lives, society, perceptions and technology by their actions.
We present to you TEDxIIMKashipur 2016 - 'Breaking Barriers'.
Speakers
Speakers may not be confirmed. Check event website for more information.
Aman Kajaria
Aman Kajaria is the Chief Software Architect at I2U2 Robot located in Bangalore. I2U2 is the world's simplest, smartest & the most affordable telepresence robot that can be used in every household to get people closer to their loved ones.
Anam Hashim
A ride through Ladakh – a region that is by and large considered the Holy Grail of motorcycle touring in India, is a very arduous task and generally completed by the male drivers riding on sturdy bikes. But this perception was negated by Anam Hashim, India's youngest female bike stunt driver by reaching Khardung La. And that too with riding on 110 cc scooter!
Ira Singhal
Ira Singhal is an inspiration for one and all. In a world filled with challenges and pitfalls, Ira Singhal has defied them all. Ira Singhal is an AGMUT Cadre Indian Administrative Officer. She is also the first physically challenged general category individual to top the prestigiousIAS entrance examination.
Mandeep Kaur Sidhu
Mandeep Kaur Sidhu works to uplift the rural through skill development and by generating employment. She is focused on "Rural Passion to City Glamour" in terms of developing high-quality products from rural and selling them in urban in order to generate good income for the skilled people in rural India.
Rajnish Jain
Rajnish Jain runs a nonprofit organisation which aims to support the isolated communities and the far-flung villages in northern India.
Rishabh Gupta
Rishabh Gupta is an entrepreneur behind advo.in.
Seema Rao
Dr.Seema Rao is India's first lady commando mentor and trains soldiers from Indian Special Forces. She is a pioneer of Close Quarter Fight (CQB) — the art of battling in tight closeness. She is well known for actively participating in the preparation of different Indian Special Forces training.
Sonal Dabral
Sonal Dabral is currently the Chairman and Chief Creative Officer of the DDB Mudra Group, India's first and largest integrated marketing communications and services network. He has over two exciting decades of experience on brands like Audi, Fiat, Tata Safari, Dove, Le Sancy, Unilever Foods, Ponds, Lakme, Panadol, Cadburys, Asian Paints, Fevicol, Virgin Mobile, Tata AIG, Prudential, GE, Nestle's Maggi and Milo, DBS, Remy Martin, Colgate, Pizza Hut, Sony, Coca Cola, DHL and many more. A graduate of the National School of Design (NID), Sonal began his career in Lintas, Delhi. After a brief stint in Mudra Delhi, he went on to Ogilvy Mumbai before moving to Kuala Lumpur to head Ogilvy in Malaysia and make it one of the top creative offices in the region. During his tenure as the Chairman and ECD of Ogilvy Singapore, he led the agency to become not just the hottest agency in the region and the No. 1 Creative Office in the whole of Ogilvy Worldwide but also in the entire WPP global network. In 2007, he led the agency to be the third highest awarded agency in the world at Cannes Lions. Ogilvy Singapore emerged second runner-up as global "Agency of the Year", a first for an Asian agency. His last assignment was as the Regional Creative Head and Chairman-India of Bates operating out of Singapore and Mumbai before moving back to India. In 1999, The Times of India had named Sonal as one of the 50 Young Indians who will lead India into the next century. A popular speaker, he has spoken at major festivals like LIA, Dubai Lynx, Spikes Asia Singapore, Cristal Advertising Festival, Turkey besides numerous engagements across Asia. Sonal has also been a popular TV host, Bollywood scriptwriter and has also been channeling his passion for films into directing ad-films. Apart from being a prolific winner in most of the Regional and International Award shows like Cannes, Clio, D & AD, One Show, LIA, Andy Awards, AdFest, Spikes and many more, Sonal has served globally on most of the juries.
Syed Nazakat
Syed Nazakat has worked in senior positions at different media organisations and has over 17 years of experience as a broadcast, print and online journalist. He is the editor-in-chief of the Centre for Investigative Journalism, a non-profit organisation he founded to promote the cause of watchdog journalism in India.
Thinlas Chorol
Thinlas Chorol is a social entrepreneur, writer and the founder of Ladakhi Women's Travel Company. She is recognised for paving the way for women in a heavily male-dominated trekking industry in Ladakh.
Organizing team
Achal Gupta

Team member

Aditya Saxena

Operations

Akansha Garg

Team member

Aman Srivastava

Curation

Ankit khandekar

Team member

Ankur Goyal

Team member

Apoorv Singh

Team member

Arfaz Alam Mohammed

Team member

Bishal Kumar Thakur

Team member

Chaitali Gaonkar

Team member

Deepak Kuttath

Marketing/Communications

Gaurav Jain

Team member

Gurpreet Marwah

Team member

Harshil Patel

Team member

Harshita Soni

Team member

Jatin Tomar

Team member

Nilesh Pandey

Team member

Pratika Saini

Team member

Raikoti Anand Srinivas Prasad

Team member

Roop Datta

Team member

Satyajit Oram

Team member

Shalaka Giri

Team member

Shravan Mundhada

Team member