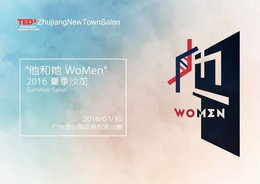 After discussing about symbiosis between city and its people in 2015 conference, TEDxZhujiangnewtown kept asking ourselves in 2016: What is fundamentally important for us, yet often ignored?

Humanity. Not only about the human nature of being male and female, but also about the similarities and differences between HE and SHE.
We try to find some answers to some simple yet difficult questions:
- Does he know her well? Does she know him well?
- Is the relationship between him and her what he and she wants?
- Where will he and she head for?
- What are the gender differences and similarities between HE and SHE?
- What differences and confusion will arise between he and she, he and he, she and she?
Exploring the tremendous differences between man and woman and between different human natures is a journey of exploration and self-inspection.
It may not be a close-ended question or perhapseveryone has their own answer. Yet, the search and question that returns to the origin of human nature is the reexamination of ourselves and relationships around us.
We expect that a sharing like this can kick off the exploration of human nature in everybody, no matter what gender you are. "The pain brought byknowing the truth, is more beneficial than the harmful joy derived from ignorance."