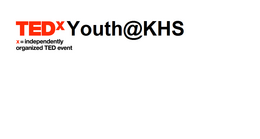 In the spirit of ideas worth spreading, TEDx is a program of local, self-organized events that bring people together to share a TED-like experience. At a TEDx event, TEDTalks video and live speakers combine to spark deep discussion and connection in a small group. These local, self-organized events are branded TEDx, where x = independently organized TED event. The TED Conference provides general guidance for the TEDx program, but individual TEDx events are self-organized (subject to certain rules and regulations).
Speakers
Speakers may not be confirmed. Check event website for more information.
Student
Alondra is a tech enthusiast who also has a strong passion for servant leadership. Through her experiences in the Girls Who Code Summer Immersion program and a business & marketing apprenticeship at Microsoft, she's learned not only more about herself, but about the tech and business world around her. She's constantly looking for opportunities to learn, grow, and feed her passions, and she encourages her friends to do the same. Follow her Instagram @alondratacuyan!
Erin Dahl
Student
Erin is a motivated teen with many interests ranging from science and math to ultimate frisbee, swimming, lifeguarding, refereeing, and volunteering. Recently, Erin participated in a cultural immersion and service trip to Guatemala. Her trip inspired her to use science and math to help change the world and exchange ideas with others about making positive impacts in communities.
Ethan McGhee
Student
Ethan McGhee is an aspiring biologist with a passion for finding new and innovative ways to help the greater good. After focusing on several independent research topics, he found a niche in aquaponics. Following the completion of the Project Feed 1010 Internship at the Institute for Systems Biology, Ethan continues to advocate for a sustainable future and a better life for society.
Student
Sanjay is a Kamiak junior with a passion for learning. Producer of his own podcast, YouthTalks, he loves to listen in on others' perspectives about the world around us. You'll often find him on a Monday morning listening to the latest episode of Marketplace or Planet Money on NPR or peeking at the editorial and sports sections of The Wall Street Journal. Apart from this, Sanjay runs track, participates in Kamiak's marching band, is a member of Kamiak's Knowledge Bowl team, and participates various other clubs and organizations.
Sargun Handa
Student
Sargun is very involved Kamiak sophomore in the Mukilteo community. She is part of Key Club, Human Rights Club, Hugs for Ghana, Free the Children, Knights in Action, Natural Helpers, and the CCFA. Sargun works two volunteer jobs: a writer for "The View from Harbour Pointe" magazine and an office intern for the Mukilteo Chamber of Commerce. As favorite pastimes, she is a violist in the KHS Orchestra, 2015-16 KHS JV Girl's Golf captain, and advocate in KHS human rights forums.
Sofia Ayala
Student
Sofia Ayala is a Mexican-American student from Kamiak High School, born and raised in Seattle Washington. Sofia enjoys to read and to play violin in her school orchestra she is also involved in other clubs like "Newspaper" and "Human Rights. Sofia is passionate about her family and her friends, she is clear-headed and always remembers what's essential.