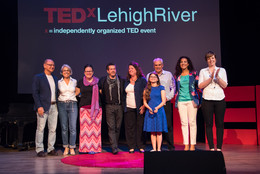 The Fourth Annual TEDxLehighRiver presented a full array of compelling speakers, performers, and TED videos. A full list of speakers is below. It was an afternoon of ideas worth spreading. (Photo credit: Diane Richter Photography)
Speakers
Speakers may not be confirmed. Check event website for more information.
Annarose Ingarra-Milch
Positive aging advocate
Annarose Ingarra-Milch, president and founder of ROI Training & Consulting, LLC, author of the award-winning novel "Lunch with Lucille," and the reigning Ms. PA Senior America, is a positive aging advocate. Annarose draws upon her lifetime experience as an author, serial entrepreneur, educator, trainer, and retired probation officer to share an uplifting message about the value of age.
Elizabeth Dobson
Strategic marketing leader; blogger
Elizabeth Dobson is a multiracial woman and the youngest of three children adopted into her all white family. She grew up in rural Pennsylvania where she thrived socially and academically despite being one of few minorities in her hometown. Liz recently created a blog to educate and empower a growing demographic of interracial and adoptive families. She understands they have important and unique challenges and perspectives within their families and communities.
Ira Wolfe
Blogger, business writer, author
Ira Wolfe describes himself as a "Millennial trapped in a Baby Boomer body." He is a prototype for the power of mindset over age. He thinks intensely about how change impacts people and organizations. A prolific blogger, business writer, author, and respected authority on talent management and job fit, Ira walked away from a very successful but unrelated career over 20 years ago and feels he stepped into the future for the first time.
Leonieke Scheuble
Student and jazz musician
Leonieke Scheuble is a professional jazz musician who has been named "Best Up & Coming Young Artist" (HotHouse NYC Fans Decision 2015 Awards). Now entering the 9th grade, Leonieke already has an extensive and impressive performance and recording resumé. As a student of the highly respected jazz pianist, Steve Ash, her love of jazz, blues, soul and gospel music motivates her to develop her expanding musical skills.
Patrick McIvor
Hairdresser
Patrick McIvor is a hairdresser who has had some very unique experiences during his 30-year career caring for people's hair.His observations have been shaped by a broad range of a lifetime of experiences from being a teen volunteer in a neo-natal intensive care unit to his extensive, multi-continent travels which have allowed him to teach and share ideas, to his work in salons from New York City to his own salon in Nazareth, Pennsylvania.
Sarah Trimmer
Hotel manager
Easton's Sarah Trimmer is a two-time breast cancer survivor who works professionally in hospitality management. Sarah spends her free time as a writer, public speaker, and mentor to newly diagnosed breast cancer patients. She is passionate about equality and serves on the Boards of several local non-profits.
Stephanie Smith
Artist, writer, Yoga instructor
Self-taught artist Stephanie Smith has been working for the last ten years with the sacred circular art form known as mandala as a self-reflective meditative practice. She has, to date, created over 10,000 pieces of mandala art in a wide variety of expressive mediums. She is a resident artist at the Banana Factory Arts Center in South Bethlehem, Pennsylvania.
Veronique Valliere
Licensed psychologist
Veronique Valliere, Psy.D., has more than 25 years of field experience as a clinical psychologist. She puts this experience to work training law enforcement personnel to see beyond bias, stereotypes, and misinformation so they are not manipulated by those who commit violent and sexual assaults.