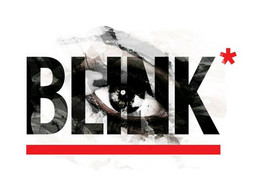 Blink, by Oxford's definition, is to close and immediately reopen one's eyes. This is precisely what we are aiming to do in our event. We hope to metaphorically close the eyes of our audiences, only to have them reopen their eyes in previously unknown territories. We want to nudge them to explore this new world to the fullest as we would like to not only redefine their definition of the world but completely change the way they interact with it.
Blinking, whether we like it or not, is closely ingrained in our everyday lives and is practically inseparable from being alive. Likewise, it is our goal during our event to bring forth ideas that will go on to be a part of everyone's lives, as fused together with their lives as the act of blinking is. We are not looking to introduce ideas with little practical application, we want to make great ideas highly accessible to a greater audience, a juxtaposition of abstract paradigms and concrete implementations.
It only takes about 300 milliseconds to blink, and yet it is perfectly possible to miss something important in that timeframe. The theme "blink" also serves as a reminder to us all that life moves fast enough to miss in even a blink of an eye. In our event, we want to encouraging participants to propagate their ideas and opinions to anyone who would listen. We are pleading them to let the ideas that have been gestating in their minds for god knows how long be heard!
Speakers
Speakers may not be confirmed. Check event website for more information.
Gary Liew
The difference between fiction and reality, is that fiction has to be believable. This maxim can be said to summarise the life of Gary Liew. Gary is a multi award winning filmmaker with a string of achievements made in the film industry alone. He realised that if he really wanted to, and set his mind to it, he really could make a difference. This epiphany led to his founding of Street Feeders of KL (SFOKL) which is a grassroots people's movement whose primary aim is to reach out to the homeless and urban poor communities in this city through its feeding program. As his influence continued to grow, he has also transcended the borders of nations and is now making a difference in other communities all over the world. He is a magician too.
Mushamir Mustafa
-