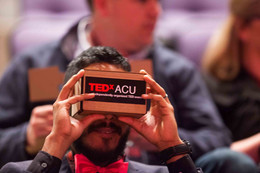 What's Next?
It's a big question that can't be answered through a single voice or perspective. And in our ever-connected world, the next challenges facing one industry inevitably impact the next steps taken by another in a global puzzle of ever-increasing importance. TEDxACU 2017 speakers and performers will add their voices to this conversation through a day of sharing their perspectives on what's next -- from art to science, history to business, and a number of points in between.
Join us on Friday, March 24, 2017 for a day of considering hard questions, great ideas, and the incredible possibilities that lie ahead.
Speakers
Speakers may not be confirmed. Check event website for more information.
DRI Bell Peppers
The Bell Peppers handbell choir is made up of 20 adults who are served by Disability Resources, Inc. of Abilene. While the group members are not music readers, they are able to perform using a system of adaptive music notation which allows them to play all types of handbell music. Since its beginning in 2007, the bell choir has performed for many different groups in and around Abilene, and has had the opportunity to travel to places such as Dallas and San Antonio.
Podcasters, The Popcast
Knox McCoy and Jamie Golden have been co-hosting The Popcast since 2013. Their show is a nationally ranked weekly podcast that they self-describe as "part deep dive, but mostly shallow end." On a personal level, Knox enjoys chips and queso, zombie movies, and spending time with his wife and kids, while Jamie enjoys depressing documentaries, Cheezits, and serving as an advocate for foster and adopted children.
Astrophysicist, NASA Goddard Space Flight Center
Amber grew up under rural Arkansas' beautifully dark skies, a setting that sparked her lifelong fascination with astronomy. In her work with NASA's James Webb Space Telescope science team, Amber seeks to answer important questions about how our universe works.
Chief Collaboration Officer, DrBonnie360
Bonnie and her team consult with entrepreneurs to develop products and services aimed at improving all aspects of autoimmune care, empowering patient communities, and advancing toward individualized autoimmune diagnosis and treatment. She is also a regular speaker at major events from Stanford Medicine X to SXSW.
Brandon Jones
Assistant Director, Academic Success Center, Clemson University
In his work as an advisor, academic coach, and learning strategy consultant, Brandon is able to put his passion for helping students realize their purpose and make the most of their college experience into action.
Communication Professor, Southern Methodist University
As a communication scholar, Cara has always known that words are powerful. But her scholarship took a personal turn in 2013 when her son, Everett, was born and diagnosed with Down Syndrome. You can find her talking more about her experiences on her blog at mamability.com.
Chandler Graf
Biochemistry Major, Abilene Christian University
As a biochemistry major and barista at Beltway Coffee in Abilene, Chandler has a deep passion and appreciation for the integration of science in the art of brewing coffee.
Chera Chaney
Chera Chaney has spent her life pursuing her love of art. Competing in the Miss Texas Scholarship Pageant in the Summer of 2016, she found a way to use her love of art as her talent by speed painting Elvis Presley on stage in 90 seconds. She now resides in Dallas, Tx and is a graphic designer on the Global Branding team at Mary Kay Cosmetics Headquarters.
Founder, Creativum
Daniel is the founder of Creativum, a socially conscious brand that he started with $2 while stranded in another country. Eventually, this project took him on a nearly four year long backpacking trip from the United States to Argentina.
Jackie Beth Shilcutt
Adjunct Professor of Dance, Abilene Christian University
Jackie Beth has studied, performed, collaborated, and choreographed dance works from Texas to New York, and Brazil to Africa. And even a brief talk with her ACU students leaves no doubt that her dance classes make a lasting impression about the power of dance and movement.
President, Mission Lazarus
In 2001, Jarrod moved to Honduras to work on a ten month project. But ten months quickly turned into fifteen years, and today he directs Mission Lazarus, a non-profit organization he and his wife, Allison, founded to help communities in Honduras and Haiti seek economic sustainability and social development.
Director, Midland County Public Libraries
As the Texas Library Association's 2014 Librarian of the Year, a former member of the Texas Bluebonnet Award Selection Committee, current Texas State Library and Archives Commission Library Systems Act Board Member, and especially as a father of five, John Trischitti, "Mr. T," understands the power of literacy.
Madeline Dayton
Global Studies Major, Abilene Christian University
Madeline is passionate about justice and international law. She has worked in Washington D.C., is preparing to apply for law school, and hopes to one day work for the United Nations. But she also loves studying history and understanding how the generations who came before us have shaped what we believe today.
Paul Munshower
Physics Teacher, Abilene Wylie High School
Global collaborations probably aren't the first thing that come to mind when you consider public high school education. But after moving around the world every few years during his father's military career, Paul developed a passion for global awareness and education.