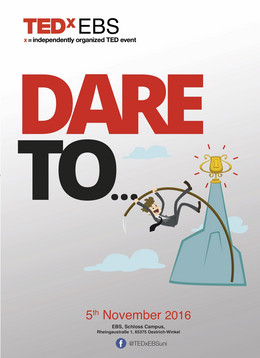 Post-Event Update :
Checkout our picture on Flickr
https://www.ted.com/tedx/events/19848
Checkout our videos on Youtube
https://www.youtube.com/playlist?list=PLsRNoUx8w3rNKAOQo3uBqomvviuytdazP
On Saturday November 5th 2016 the first TEDxEBS is coming to EBS Universität in Oestrich Winkel.
Dare to be inspired and be part of a unique experience!
ONLY 100 TICKETS AVAILABLE!
TED is an annual event that brings together the world's leading thinkers and doers to share ideas that matter in any discipline – technology, entertainment, design, science, humanities, business, and development.
In the spirit of "ideas worth spreading" we are excited to announce our theme "Dare To...".
LET YOUR MIND BE BLOWN BY OUR MYSTERIOUS, WISE, MAGICAL & CHARISMATIC SPEAKERS.
TEDxEBS will not only offer enriching talks, but also valuable networking opportunities while enjoying some Rheingau wine, refreshments, and fingerfood.
Tag along for an unforgettable experience!
The TEDxEBS Speaker Lineup is as follows:
- Jan Brecke with Dare to lead the future
- Ela Darling with Dare to see through new lenses
- Julian Herzog with Dare to leverage your talent
- Rasa Karapandza with Dare to think unconventionally
- Rajeev Kovath with Dare to follow your passion
- Pierre Manu with To dare is just a state of mind
- Ryan Nelson with Dare to fail
- Nico Rose with Dare to foster compassion
- Jakob Lewin Rukov with Dare to eat insects
- Paula Schwarz with Dare to overcome barriers
**Event will be held in English**
For more information, please visit www.facebook.com/tedxebsuni
For enquiries, please contact tedxebs@gmail.com.
Speakers
Speakers may not be confirmed. Check event website for more information.
Ela Darling
Political Activist and VR Porn Entrepreneur
Ela Darling is the world's first Virtual Reality cam girl and a pioneer of VR in the adult entertainment industry. As the co-founder and face of VRTube.xxx, Ela joined forces with CAM4 to bring VR live cams to a global scale – empowering performers to monetize across a new medium.
Co-founder, INSEKT KBH
Jakob is the co-founder of Bugging Denmark, Denmark's only edible cricket farm situated in Copenhagen, and Insekt KBH, Europe's only producer of juice products containing edible insects. Together with his partners, he strives to introduce insects to Europe in a gentle and tasty way.
Executive Coach
Psychologist Jan Brecke is an Executive Coach and an expert on building a modern corporate culture in the digital age after heading HR, talent and leadership development functions in large corporates for GE, Daimler, UBS, Beiersdorf and Deutsche Bank.
Julian Herzog
Strategic Advisor
Julian was born in Germany and has lived in Hong Kong, Malaysia, Shanghai, Croatia and France. He has experience from multiple start-ups and is currently studying for a master's degree at Technische Universität Berlin.
Positive Psychologist
By day, Nico is the head of employer branding and recruiting programs for an international media group. By night, he's a blogger/author who writes about positive psychology and (post-)modern leadership.
Social entrepreneur
Paula Schwarz is a Greek/German entrepreneur who runs the mobile think tank Startup Boat, which allows innovators of different fields to meet and co-create solutions for the refugee crisis in Europe.
Magician
After being a tennis coach for 12 years, Manu worked as an export manager for an SME. Five years later he decided to pursue new challenges and push his own boundaries. So he started a career as a magician. After 2 years of intensive training and many experiences with live audiences, he created the concept of "magic Influence", an innovative communication approach which takes advantage of the entertaining properties of magic to improve communication.
Rajeev Kovath
Key Account Manager and Dance Teacher
Rajeev Kovath has a passion for dance and is working as a display account manager at Google Dublin. He has won several awards in school, college, and even during his corporate career, including Corporate Best Performer at Google.
Finance Professor at EBS University
Raša Karapandža is a professor of finance at EBS and holds a PhD in economics and finance. His main areas of research are Asset Pricing, Investment Strategies, Applied Game Theory, Big Data and Computational Finance and Economics.
Ryan Nelson
MBA student and Captain, United States Army
Ryan Nelson spent 10 years in the United States Army in a variety of assignments. He left the Army in August of 2016 to pursue his passion for cars and is now doing an MBA in Automotive Management at EBS University in Germany.