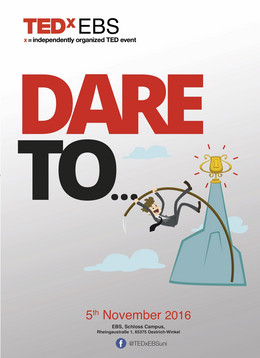 On Saturday November 5th 2016 the first TEDxEBS is coming to EBS Universität in Oestrich Winkel.
Dare to be inspired and be part of a unique experience!
ONLY 100 TICKETS AVAILABLE!
TED is an annual event that brings together the world's leading thinkers and doers to share ideas that matter in any discipline – technology, entertainment, design, science, humanities, business, and development.
In the spirit of "ideas worth spreading" we are excited to announce our theme "Dare To...".
LET YOUR MIND BE BLOWN BY OUR MYSTERIOUS, WISE, MAGICAL & CHARISMATIC SPEAKERS.
TEDxEBS will not only offer enriching talks, but also valuable networking opportunities while enjoying some Rheingau wine, refreshments, and fingerfood.
Tag along for an unforgettable experience!
The TEDxEBS Speaker Lineup is as follows:
- Jan Brecke with Dare to lead the future
- Ela Darling with Dare to see through new lenses
- Julian Herzog with Dare to leverage your talent
- Rasa Karapandza with Dare to think unconventionally
- Rajeev Kovath with Dare to follow your passion
- Pierre Manu with To dare is just a state of mind
- Ryan Nelson with Dare to fail
- Nico Rose with Dare to foster compassion
- Jakob Lewin Rukov with Dare to eat insects
- Paula Schwarz with Dare to overcome barriers
**Event will be held in English**
For more information, please visit www.facebook.com/tedxebsuni
For enquiries, please contact tedxebs@gmail.com.
Speakers
Speakers may not be confirmed. Check event website for more information.
Ela Darling
Political Activist and VR Porn Entrepreneur
Julian Herzog
Strategic Advisor
Rajeev Kovath
Key Account Manager and Dance Teacher
Finance Professor at EBS University
Ryan Nelson
MBA student and Captain, United States Army