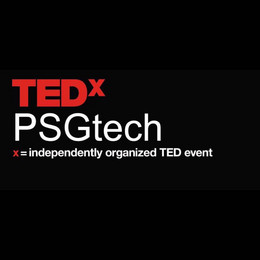 OCTOBER 14th 2016-PSG COLLEGE OF TECHNOLOGY.
The event will feature speakers from various fields and hence diversity of information is guaranteed.It will create a spark in the minds of young people and help them learn a lot of things.They will be inspired by both the speakers and the organizing team.In short they will get to see the magic created by the people of PSG TECH.
Speakers
Speakers may not be confirmed. Check event website for more information.
Light Art Photographer
Jeswin Rebello's life revolves around flashlights, camera and glow sticks. This light painter from Coimbatore has made the city proud by being the only one from the country to be in the coveted list of 73 talented light painters from across the world who exhibited their works at the international light painting exhibition held in Mumbai, last June. "I have been actively involved in this art for more than three years. My tryst with lights began by sheer accident. I had gone to watch a horse race with my friends where I borrowed my friend's camera and started clicking the pictures, trying to get a panning shot. My curiosity piqued and I started looking up on the internet to find more about the nuances of that shot. Thus began my experiment with the lens and lights." Today, Jeshwin has around 80 light painting works to his credit.
Nivas Prasanna
Music Director
Nivas K. Prasanna is an Indian film composer and singer. He made his debut as a music composer through C. V. Kumar's murder mystery film, Thegidi (2014), winning critical acclaim for his song compositions and background score. He has also done two more hit films, Sethupathy (2016) and Zero (2016).
Additional Director General, PIB, Bhopal.
Dr Sudhakar is a multi-faceted personality and effectively Communicator, Researcher, Journalist, Singer, Educationist, Dancer, Author, Poet Balladeer, Humanist, Civil Rights Crusader, Psychologist ,Lawyer, Mimicry Artist, Human Rights Activist,Professor,Actor,HRD Trainer, Psycho Therapist, Historian ,Medical Doctor, Social Worker,Social Scientist,Social Reformer,Social Activist and of all the things, he is simple soul.
Author
Radhika Nathan is a juggler, a meanderer and a rolling stone. She believes in the miracle of words and the rain. Her favorite pastimes include reading, listening to podcasts and gazing at monsoon clouds. Her taste in books is eclectic ranging from anthropology to old fashioned murder mysteries, and if pushed she would name Jane Austen as her favorite author for her believable, eternal characters. Travel is something she enjoys and has been to more than a dozen countries- for the love of meeting new people and discovering new cultures. Radhika writes for her fascination of human beings, intrigued by their archetypal & atypical behavior and the differences & similarities in all of us. Writing is a means that forces her to think and re-examine a point of view or a preconceived notion. 'I grow as a person as I write', she says and quotes 'A well written sentence [a rare occurrence] is like soul chocolate.'
Principal of Silver Oaks School
Be the change you wish to see in the world..!!! Mrs.Seetha Murty,the Principal of Silver Oaks School is an active educationalist,trekker and most importantly a very inspiring personality. In the contest held by Times of India to identify leaders from within the society,she was selected out of 1000s of other people. She is a well known global figure and has travelled to various countries to address and talk on a lot of issues related to education.She has also given presentations in various National Conferences held by CII,E-Education Summit and IIT Delhi. She is also a writer and has two books to her credit namely Me and My Country and Mantras of Mahatma.In addition to these she has written and directed a number of annual operas on diverse themes and concepts.
Founder of My Story as a Wo(Man)
Subha Nivedha is a Chennai based Social Activist, whose work is focused on attaining gender equality through women empowerment. As part of her initiative 'My story as a wo(man)', she has documented stories of various women in her website, encouraging women to embrace their success, their past, present and future. She is currently pursuing her degree in Law at Sastra University, Tanjore. She began her endeavour as a personal blog to write about successful women and then it grew into what it is now, with teams in Kerala, Delhi, Chennai and Trichy. She is working with organisations, colleges and schools to get the message loud and clear. She strongly believes that gender equality can be bridged only if men take an active participation in the change for a gender equal world.