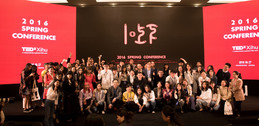 The Topic "One-Top and Bottom" has brought lots of controversy after we fixed, especially people questioned on why we chose "丨" , the Chinese radicals, as if it's too mysterious and doesn't make any sense to most audience.
Our human being have experienced from Baraka and brutal society to modern society where we're now living, however, we've been rated by "Upper and Lower class", Class conflict never ends. Hence, it's been filled with quarrel, fight, oppression, war, and trampled in TV show, in our history as well as engraved in our memories.
Even right now, Refugees from Syria who are homeless due to war are trying various ways to Influx into Europe courtiers. We doubt if there will be a time that "future is not a repeated history of past, upper and lower class are not opposite ends anymore?
We have to change our actions firstly if we want to change the outcome, and we have to change our thinking firstly if we want to change our actions. It is also the value system advocated by TED that "Ideas worth spreading".
Time always follows up the cycle "past, present, and future" going as one way journey every single day and night in our mind, therefore "past" affects "present", "present" affects "future", Is there other possibility that time could follow up another cycle with "future, present and past"? Future affects present, present affects past.
We won't be controlled by time cycle any more, but a conductor of time cycle. Future and past can be connected as two ends, communicated with each other, merged into one.
When the possibility of changing time cycle could be achieved into multi directions as we want, will the "upper and lower class" being merged into "one" as well?
Speakers
Speakers may not be confirmed. Check event website for more information.
Guanlei Jia
Jia Guanlei has been severed as director of photography and Chinese Affairs in Double Negative Visual Effects Company in last decade which is the largest special effects company in Europe on film and television post-production. He has been involved in post-production of "Harry Potter" series, "Batman" series, "Mission Impossible" series, "007" series and "Interstellar" and other hundreds of film and television works.
Joan Stanley-Bake
Born in Nanjing, with a Sino German dual origin, she has finished primary and junior high school in Rome, Chongqing and Shanghai. Then she attended Bennington College in US for further study, continuously studying Chinese art history at Princeton University in the United States later on, at her age of 50, she went to the United Kingdom studying in Institute of Oriental Studies at Oxford University, won the master's and doctoral degree there. In 1991 she served as director of arts center at the National Tsinghua University in Taiwan, assisted in establishing the Tainan National College of the Arts (later University) She had taught the history of Chinese and Japanese art at National Taiwan University, the University of Melbourne, National Tsinghua University, from 1975-1980, Inaugural Curator of Asian Art at the Art Gallery of Greater Victoria in British Columbia, Canada, And the author of Japanese Art(Thames&Hudson, 1984, 2000, 2014 editions) She was retired in 2006, but continued her research in painting and calligraphy till now.
Mark Osborne
Mark Osborne, Filmmaker, two-time Academy Award nominated, Grammy nominated, Annie Award and César Award winning director of: Kung Fu Panda, MORE, The Little Prince, and the live action sequences from The Spongebob Squarepants Movie and TV series.
Qun Zhang
Zhang Qun, the sponsor of youth camphor program. Born in Beijing in 1982, Zhang Qun commits to find the most matching apartment for young people, by establishing Hangzhou Pinqiao Realty and Yunqiao Network Technology in 2013, which are both subordinated to Hangzhou Qiantang Real Estate Company. In 2014, he launched the Youth Camphor Program to help the young people stay in Hangzhou just like camphor tree sprout from its roots, with slogan "fought, stay here".
Yang Han
A freelance musician, who grew up in Dongbei, started up his business in Hangzhou and settled down in Suzhou. He is a professional musician who sticks to his own music and also enjoys an undisciplined life; He is a teacher in charge of piano training for many years, and also a comic writer who won the professional championship in Fingerstyle Guitar Competition. As a music critic, he advocates rock and roll spirit and studies the jazz music. He is one of Douban musicians, Netease musicians etc, also a co-founder of Maiba APP.
Yong Gu
A member and Standing Committee of CPPCC in Shangcheng District, Hangzhou, a member of Democratic National Construction Association Central Cultural Committee, vice president and director of Democratic National Construction Association Central Art Gallery, a winner of Chinese photography highest individual achievement award, named as "World Outstanding Professional Photographers", "Hangzhou photographer master", a member of China Photographers Commercial Photography Committee, won more than 2000 prizes of Gold, silver and copper prizes both domestic and overseas.