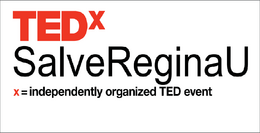 "The purpose of bringing a TEDx event to campus was born out of the desire to introduce new ideas to Salve Regina's students and to inspire them to expand their understanding on a variety of subjects. The TEDxSalveReginaU planning committee thought long and hard about an appropriate and inspiring theme that would encompass the purpose behind our efforts and the content of the TEDxSalveReginaU talks. We believe the theme of 'Growing Ideas' does this.
Ideas are like seeds; in order to grow, they must be cultivated with passion, a pursuit of knowledge, and a desire to improve the world. This must be done by people who are truly invested in this process, and by these who recognize that even the smallest of seeds has the potential to change the world. Through this event, Salve Regina's students will become inspired to pursue what is important to them, and perhaps discover new ideas that they can help to grow and flourish."
Speakers
Speakers may not be confirmed. Check event website for more information.
Colleen Mellor
Author and Op-Ed commentator, Colleen Kelly Mellor is the embodiment of her mantra: "We're not done yet," which calls for all to pursue their dreams, no matter their age. Kelly self-published her first two highly –acclaimed children's books at the age of 67.
Craig Condella
Dr. Craig A. Condella, a graduate of Fordham University, is an Associate Professor at Salve Regina University in the Departments of Philosophy and of Cultural, Environmental, and Global Studies. He is a Faculty Fellow in the Pell Center for International Relations and Public Policy and teaches regularly in the Humanities Doctoral program. His primary research interests are in the fields of environmental ethics, the philosophy of science and the philosophy of technology. His work in the philosophy of science has centered on evolution, exploring both the philosophical implications of human evolution as well as the scientific credibility of Darwin's theory in contrast to theories of creationism and intelligent design. Finally, his work in the philosophy of technology, though rooted in Heidegger's assessment of modern technological being, has more recently incorporated the works of Bernard Stiegler and Andrew Feenberg in considering how new technologies – such as the iPod and Facebook – are fundamentally transforming our relationships with each other and our perception of our own selves.
David Isherwood
H. David Isherwood: David is currently an Adjunct Professor at Johnson and Wales University where he teaches in the Psychology Department. He is also a mental health counselor working with the North American Family Institute in the Enhanced Outpatient Services, a service that provides in-home therapy for at risk children and their families. David is a graduate of Salve Regina University and received a Masters in Holistic Counseling and a C.A.G.S. in Holistic Counseling and Holistic Leadership. He completed a four year seminary program by extension through the University of the South. He enjoys sailing, skiing, coffee shops, and, most of all, conversations.
Jean-Victor Nkolo
Jean-Victor Nkolo has over 30 years of accomplished professional experience, with in-depth knowledge of international affairs focusing on peace and security and development issues. He served as Spokesperson for three Presidents of the General Assembly and for the Security Council during several Council's missions to Africa. He maintains valuable relations with international institutions such as the African Union (AU), the European Union (EU), the Caribbean Community (CARICOM), the League of Arab States, the Association of South Eastern Nations (ASEAN) and other regional organizations.
Maryclare Heffernan
Raised in New Jersey in a family of artists, musicians, and good cooks Maryclare Heffernan was surrounded by design, experimentation, messy creativity and wonderful food. She loved watching the process of visual and performance art as both a spectator and critic. Maryclare worked on her written word for years; fiction, essay and some non-fiction articles, all of which she occasionally got published. She eventually lived in New Hampshire. she was drawn to the lines and textures of art and the way human beings communicate their deepest feelings and desires in a painting of colors so rich and true.
Matthias Klettermayer
Matthias Klettermayer is Public Information Officer and focal point for communication and outreach in the Division for Sustainable Development, which is part of the UN Department of Economic and Social Affairs. He regularly gives briefings on sustainable development issues, in particular on the 2030 Agenda for Sustainable Development and the Sustainable Development Goals. Mr. Klettermayer is also involved in social media campaigns, press events and the production of promotional videos and news pieces that seek to increase understanding of the Sustainable Development Goals and their implementation. He studied Communications Science and International Policy Analysis.
Nikolai Blinow
Nikolai Blinow is a certified yoga instructor and licensed mental health counselor in the state of Rhode Island. She founded OMpowerment Psychotherapy with the goal of serving a unique niche in the mental health and personal development community. Nikolai integrates research-based Westernized, mental health practices with holistic approaches to treatment and does this by combining training in interpersonal communications and mental health counseling with yoga and mindfulness practices.
Scott Piltch
Recent college graduate and entrepreneur Scott Piltch recognizes the challenges millennials face in the competitive workforce, and believes that success can be found through collaboration with and mentorship from the Boomers and GenX.
Terry Wildemann
Terry Wildemann integrates mind, body and spirit when coaching and facilitating her practical and real world professional development and business programs for intuitive leaders. An experienced entrepreneur, facilitator, speaker, certified executive coach and bestselling author, Terry guides students to tap into their "inner business game" to bring out the best in themselves and their teams. The outcomes are evolved, competent, confident, credible and coherent influential leaders who operate on all cylinders. As a 20 year volunteer, Terry presented to over 11,000 transitioning military personnel.
Tina Melo
Tina Melo, is the founder of The Melo Project Runway For Youth 2014, a non-profit, Montessori infused educational Fashion Design program that empowers the youth. Tina has spoken on behalf of all artists to pass a Bill in Rhode Island to become an Art Tax Free State. Tina received a Citation from The Rhode Island House Of Representatives as an advocate for Youth and is certified by Boston University as a paralegal. As a former European Fashion Analyst of The Melo Reports and NY Fashion Designer. Tina began her career after receiving her BFA in Apparel Design from The Rhode Island School Of Design (RISD) in 1986.
Vincent Testa
Vin Testa is originally from Wallingford, CT, and has lived in the Washington, DC area since graduating from Salve Regina University in 2011. Vin is currently in his sixth year as a high school math teacher in the DC Public Schools system. In 2014, he earned his Master's degree in Special Education with a focus on Learning Disabilities from American University. He has been on the Board of Directors for Dignity/Washington – the DC chapter of a national organization for LGBTQ Catholics, DignityUSA – since June 2014, served as Vice President from 2015-16, and was elected President of the organization in June 2016.