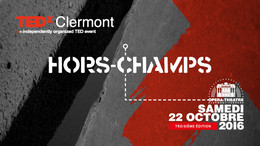 In the spirit of ideas worth spreading, TEDx is a program of local, self-organized events that bring people together to share a TED-like experience. At a TEDx event, TEDTalks video and live speakers combine to spark deep discussion and connection in a small group. These local, self-organized events are branded TEDx, where x = independently organized TED event. The TED Conference provides general guidance for the TEDx program, but individual TEDx events are self-organized (subject to certain rules and regulations).
Speakers
Speakers may not be confirmed. Check event website for more information.
Founder of Handi'School & Wheelchair rugby player
Joueur international de rugby en catégorie junior, Adrien Chalmin est victime d'un grave accident le laissant tétraplégique à 19 ans. Il en faudra plus pour le stopper : Fondateur et président de l'association Handi'School, il intervient auprès des jeunes publics pour les sensibiliser au handicap. Adrien pratique également le rugby fauteuil à haut niveau et a participé avec l'équipe de France aux Jeux Paralympiques de Londres en 2012 et à ceux de Rio en 2016. / Junior international rugby player, Adrien Chalmin suffered a serious accident leaving him tetraplegic at the age of 19. It will take more to stop him: Founder and president of the association Handi'School, he intervenes with young audiences to make them aware of disability. Adrien also plays international wheelchair rugby and participated with the French team in the Paralympic Games of London in 2012 and those of Rio in 2016.
Violoncelliste / Cellist
Ana Carla Maza a 21 ans et sait déjà explorer avec virtuosité les sonorités de son violoncelle. Alternant caresses et tempêtes dans une explosion de sensations musicales, elle a réussi à maîtriser le difficile exercice du concert solo grâce à son énergie naturelle. De la bossa nova brésilienne à la habanera cubaine, Ana Carla fait résonner sa voix habitée aux quatre coins du monde. Elle a également travaillé avec de grands noms du jazz et des musiques du monde. / Ana Carla Maza is 21 years old and can already master all the sounds of her cello. Alternating caresses and storms in an explosion of musical sensations, she managed the difficult exercise of solo concerts thanks to its natural energy. From Brazilian bossa nova to Cuban habanera, Ana Carla Maza make her voice resonate in all corners of the world. She has also worked with great names in jazz and world music.
Anne ASENSIO
Designer
Anne Asensio est designer. Elle a été en charge du design management et de stratégie d'innovation, chez Renault, General Motors. Elle est actuellement chez Dassault Systèmes. Elle y a créé le Design Studio, rassemblant une équipe multidisciplinaire en stratégie d'innovation par le design (Design Experience), recherche en design, design management et conseil. / Anne Asensio is a designer. She was in charge of design management and innovation strategy at Renault and General Motors. She is currently working for Dassault Systèmes. She created there the Design Studio, bringing together a multidisciplinary team in innovation strategy thru design (design experience), design research, design management and consulting.
Gestionnaire Forestier / Forest manager
Formé à Aurillac en Auvergne, Charles-Etienne Gestionnaire Forestier Professionnel et Agréé. Il délivre de précieux conseils de gestion à long terme aux propriétaires de forêt. Vente de bois, démarches administratives ou reboisement, il coordonne les interventions au sein de chaque forêt. / Trained in Aurillac (Auvergne, France), Charles-Etienne is a Professional and Licensed Forest Manager. he delivers valuable long-term management advice to forest owners. Sale of timber, administrative procedures or reforestation, he coordinates interventions within each forest.
Expert in financial risks & Entrepreneur
Spécialiste des risques financiers, Jérôme a créé l'éditeur de logiciels MyCercle après avoir été directeur général de Coface et au comité de direction générale d'une grande banque. Son thriller, «555 Jeudi Rouge» est une initiation ludique aux dangers de la nance spéculative. / Expert in financial risks, Jérôme Cazes created MyCercle software company after being CEO of Coface and a member of the executive board of a major bank. His french thriller ("555 Jeudi Rouge") is a playfull introduction to the dangers of speculative finance.
Leïla DRISSI KAÏTOUNI
PhD Student in microbiology at Faculty Dhar El Mahraz, University Sidi Mohamed Ben Abdellah, Fez
Leïla est née en 1990 et se passionne pour la littérature au point de s'imaginer romancière. C'est au lycée que la chimie et surtout la biologie lui ouvrent les portes d'un monde inexploré où elle peut s'épanouir pleinement. Leïla obtient alors une licence en génie chimique avant de s'orienter vers un master en chimie des molécules bioactives et enfin vers un doctorat en microbiologie. / Leïla was born in 1990 and is passionate about literature to the point of imagining she could become a novelist. During high school, chemistry and biology made her discovered an unexplored world. Leïla then obtained a bachelor's degree in chemical engineering before moving to a master's degree in chemistry of bioactive molecules and toward a doctorate in microbiology.
Lucie POULET
PhD Student at CNES, CNRS & Institut Pascal, Clermont-Ferrand
Lucie étudie le développement de modèles physiques a n de mieux comprendre le processus de pousse des plantes dans un environnement à gravité réduite. Depuis 6 ans Lucie Poulet travaille sur les systèmes de support de vie, avec différents groupes tels que l'Agence spatiale européenne ou le Centre aérospatial allemand. Elle a également participé à 3 simulations de missions sur Mars. Même si Lucie a la tête dans les étoiles, elle garde les pieds sur terre et aime le sport, la nature et les voyages... / Lucie studies the development of physical models to better understand the growth process of plants in a reduced gravity environment. For the last 6 years Lucie Poulet has been working on life support systems with different groups such as the European Space Agency or the German Aerospace Center. She also participated in 3 simulations of missions on Mars. Although Lucie has her head in the stars, she keeps her feet on the ground and loves sports, nature and travel...
Music Instrument Builder
Nicolas Bras tombe très tôt amoureux de la musique. Il pratique d'abord la guitare puis les percussions et c'est après un voyage un Inde que l'évidence s'impose : il sera musicien. Devenu musicien intervenant en milieu scolaire, Nicolas se lance également dans des ateliers de construction d'instruments et d'objets sonores. En 2010, il choisit de se consacrer à son projet Musiques de Nulle Part où il monte sur scène pour jouer avec les instruments qu'il a lui-même créé. / Nicolas Bras falls in love with music very early. First, he starts playing guitar then percussions and after a trip India, it became obvious that he will be musician. Beyond lecturing music in schools, Nicolas also runs workshops for building music instruments and other sound objects. In 2010, he decides to fully get involved in his project "Musiques de Nulle Part" (Music from nowhere), where he goes on stage to play the instruments that he creates.
Lanceuse d'alerte / Whistleblower
Ex-cadre marketing, Stéphanie est une lanceuse d'alerte française. À l'été 2014, elle devient membre fondateur et secrétaire générale de l'association PILA (plateforme internationale des lanceurs d'alerte). En 2015, elle reçoit le prix Anticor lors de la soirée « Éthique contre casseroles ». Le 10 septembre 2015, elle est nommée pour le Prix Sakharov aux côtés de deux autres lanceurs d'alerte, Edward Snowden et Antoine Deltour. / Ex-marketing executive, Stephanie is a French whistleblower. In the summer of 2014, she became a founding member and general secretary of PILA (International Platform for Whistleblowers). In 2015, she received the Anticor prize during the evening "Ethics against Corruption." On September 10, 2015, she was nominated for the Sakharov Prize along with two other whistleblowers, Edward Snowden and Antoine Deltour.
Journalist & News Designers
Yann est News Designer. Il accompagne les médias à développer leurs projets numériques en modernisant leur site web, en les aidant à conquérir les réseaux sociaux ou en produisant du contenu interactif. Ancien rédacteur en chef adjoint de Rue89, il a d'abord travaillé pour la presse écrite avant de basculer peu à peu sur le web. Yann essaie de développer ses compétences techniques profiter au maximum de toutes les possibilités du numérique. / Yann is News Designer. He helps the media to develop their digital projects by modernizing their website, helping them to conquer social networks or producing interactive content. Former Associate Editor-in-Chief of Rue89, he first worked for print before gradually switching to the web. Yann always tries to develop his technical skills to benefit from all digital opportunities.