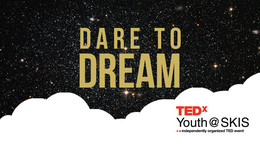 The theme for this year's TEDxYouth@SKIS event is "Dream", adopted from this year's TED conference. We believe in our dreams that inspire us to challenge reality, create new inventions as well as share creative ideas. We hope to discover minds that achieve their visions. Dreams lead us to pursue what we desire. With dreams, we propel ourselves to go beyond the limit and strive for success.

Hence, the word "Dream" is synonymous to the beginning of ideas that can be developed into brilliant inventions, the foundation of every great leader, and the hope that every citizen of the world has.
Speakers
Speakers may not be confirmed. Check event website for more information.
Adam Bruce Martin
Myopractor
Adam Bruce Martin is the owner of Bodytech, a health and fitness consultancy specializing in middle age care. With his experience, he feels that all youths and adults should be taught the proper exercise techniques from young to prevent many of the old-age problems. He wants to revamp Physical Education in Malaysia, making it a more fleshed out subject with actual goals and purposes such as good gym techniques.
Cody Foo
Beatboxer
Cody "Coex" Foo, a 5 time beatbox champion and a leading pioneer in the South East Asian (SEA) region, has an uncanny ability to charm and grasp the audiences' attention with the array of percussion sounds he can make with his mouth. Motivated by his ignorant will and drive to succeed, he pushed on and is now the first Malaysian beatboxer in history to win a Gold medal for Malaysia and give a TEDx talk. A 5 time champion, including the 808 Asian beatbox convention champion, Coex excels in his unique style which embodies his skill set, musicality, and a quirky sense of improvisation and is now currently the highest ranking beatboxer in the country, all before his 22nd birthday.
Hany Ariffin
Professor of Paediatrics and Senior Consultant Paediatric Oncologist
Dr Hany is a professor and senior consultant paediatric oncologist at the University of Malaya Medical Centre. Her areas of expertise include paediatric oncology and haematology. She has received many awards and recognitions at international and national level for her contributions, and is highly regarded in the medical community.
Jin Xi Cheong
The Drone Dreamer
Jin Xi (JX) is the founder of Poladrone, a technology start-up aimed at bringing autonomous aerial solutions using drones to commercial industries. He spent the last 10 years in Australia—gotten a degree in rocket science, recognized on the Monash Dean's Honours list for his research in the transportation of medical liquids using drones, and granted the Shell-MASCA Engineering Award for the most outstanding all rounded Malaysian student in Australia. Having left Sri KDU 10 years ago as a student, JX now returns to deliver his TEDx talk where he hopes to share his journey as a drone dreamer and inspire others to pursue their dreams by adopting the right mindset.
Keana Reinu
Head Coach at Sri KDU Debate Union
Keana is the Head Coach of the Sri KDU Debate Union, and is the first Malaysian to be appointed to the Chief Adjudication Panel of the World Schools Debating Championship, being held in Stuttgart next month. She has spent the last few years travelling to over 35 countries, and along the way found a passion for philanthropy - teaching English at orphanages, working on animal conservation projects, and bringing supplies to remote villages. She's also currently affiliated with Sony Music and is working on releasing her original material very soon. Her TEDx talk will be about challenging the rhetoric of 'following your dreams' and to explore opportunities in your youth.
Pratik Raghu
Global Studies Doctoral Student
Born in India but raised in Malaysia, Pratik Raghu graduated from Sri KDU's IBDP in 2011. He then attended the Honors Program at Westminster College in the western American state of Utah, receiving his bachelor of arts in postcolonial ethics in 2015. In September of 2016, he will be joining the University of California, Santa Barbara's Global Studies PhD Program. Having worked with and learned from diverse marginalized populations in India, Malaysia, Kenya, Mexico, and the United States, Pratik is academically interested and politically invested in Indian, American, and global movements for social justice and transformation. His TEDx talk will highlight the not-so-obvious lessons that young people can learn from Dr. Martin Luther King, Jr.'s legendary "I Have a Dream" speech as they strive to address local, national, and transnational dilemmas and affect positive change.
Wilson Sng
Architect
Wilson Sng has been involved in many projects including Belum Rainforest Resort and SixCeylon an architect for the company C'arch Architecture + Design. He is inspired by nature and fascinated by how it develops a design intelligence in its adaptations for survival and procreation. He believes project constraints and challenges provide opportunities to have adaptations for innovative designs. Drawing inspiration from important architectural thinkers and the illustrations of Louis Hellman, an architectural cartoonist, in his TEDx talk, he hopes to share how architects dream, how they keep the dream alive while negotiating with the nitty-gritty reality of Physics, and finally how they bring the dream alive.