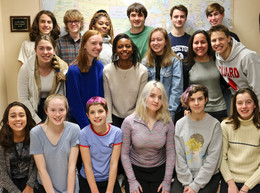 TEDxRyeNeckHigh is an interactive conference that in which speakers, performers, photographers, and audience members all reflect on the question; What's next? The event is divided into three sections: Current Trends, International Issues, and Emerging Frontiers. TEDx talks are on topics that include climate change, anxiety, cyber security, the future of classical music, religion, the Syrian refugee crisis, biomedical engineering, social entrepreneurship, and community service. Also included are performances of classical and jazz works. The audience will move between a theater and a library media center in which they will be invited to participate in expressive and reflective activities that correspond with the event's theme.
Speakers
Speakers may not be confirmed. Check event website for more information.
Beatrix Cress
Beatrix, 17, has traveled internationally observing and working with children growing up in poverty. Through her travels and by working with the National Foundation for Teaching Entrepreneurship (NFTE), she has become passionate about social entrepreneurship for children.
Daria Boswell
Daria, 16, is a spoken word poet who is influenced by the beat poets of the early 1960's. Here, she uses a narrative and spoken word form to express the hope, passion, and intelligence of her generation - named, Generation We.
Elena Tisnovsky
Is classical music still relevant? Elena Tisnovsky, age 15, passionately asks whether young people today have the attention span necessary to engage in serious, classical training? Elena, a classical violinist, is passionate about the important lessons that music education teaches and why kids today would benefit from listening to and playing classical instruments.
Grace West and Lisa Engelen
Grace and Lisa, 14, began volunteering last summer. Since then, they have become strong public advocates for volunteerism's benefits to society.
Jose Latorre
Since childhood, Jose, 15, has been preparing for a professional military career with a focus on cybersecurity. He has studied computer science and cyber security extensively. Jose believes that cyber war will be one of the great challenges facing his generation.
Juliana Silva
Juliana, 14, knows first-hand, the stress of immigrating to a country without being able to speak the language and being scared of math. In this talk, she makes suggestions for ways that teens (and adults) can manage the stresses that come with life today.
Lucas Pasquina
Lucas, a ninth grade student, used to be a Catholic and that is not how he wants it to be. After receiving all three sacraments, Lucas has determined that Catholicism is not grabbing the attention of his generation. As with many teens, Lucas' phone is attached to him like a limb - and, what if the Pope calls? Lucas has an answer for the Catholic Church - get with the technology that kids use every day and bring us back to the fold.
Naomi Young
Naomi, 14, is an eighth-grade student who is passionate about human rights and the emerging issues of mass migrations in the 21st century. She volunteers for Syrian refugee relief efforts and is determined to help build awareness of this crisis among her peers and the public.
Olivia Dunne
Olivia, 17, is a brilliant young scientist who is interested in designing nano-level medicine delivery systems. She has the capacity to excel in biology, engineering, physics, as well as the compassion and commitment necessary to be a great doctor.
Rebecca Taylor
Rebecca, 16, is an accomplished classical pianist and guitarist. She has performed extensively throughout Westchester County and in New York City.
Reed Peterson
Reed Peterson, 17, is a high school senior and award-winning classical pianist. For his TEDx experience, Reed chose to allow his interpretation of Paganini's Etude IV, composed by Franz Liszt, to speak for itself.
Ruby Liebmann
Ruby, 13, who is passionate about human rights, provides a strong vision for the future of feminism. She is a young woman to be reckoned with as she answers the question, "What's next?"
Ryan Francavilla
Ryan, 17, is interested in climate change, policy, and corporate ethics. Ryan was motivated to speak at TEDx because he is concerned that deregulating industry and failing to meet standards set by the Paris Climate Accord will severely impact his generation. As a future statesman, Ryan points to issues, ethics, and corporations who are doing what is right.