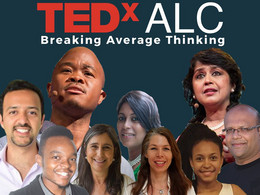 Disruptive ideas that will challenge conventional perceptions and uncover unusual approach to creating a better future.
Speakers
Speakers may not be confirmed. Check event website for more information.
Africa Rising Artists
Lead Vocals: Izu and Emmanuel Kabeya Backing vocals: Cia Uwalaka and Nicole Kirui Acoustic Guitar: Tojosoa Ramarlina. Bass Guitar: René Solomon The song is a call for all Africans to come together in Unity and work for the development of the continent. We were urging people to break average thinking through hard work by abashing laziness and hypocrisy. Twikatane is a word in the Zambian Bemba Language translated "Let's Unite"
Alex Mativo
Visual Artist
Alex Mativo is a story teller. He tells stories through visual art. stories about where he comes from and where he envisions Africa. He founded E-LAB (a company that eradicates electronic waste through art) because he believed that of all the unchangeable things in the world our biological nature that requires clean air, clean water, clean soil, clean energy must be adhered to and protecting the planet should be our highest priority or else we sicken and die. He is passionate about visual art as a tool for social good and he believes that in order to transcend all our limitations in Africa, we should demystify our perception of design and embrace design thinking because design is a 21st century catalyst for evolution.
Anneloes Smitsman
Innovator & Social Entrepreneur
Anneloes Smitsman is the Founder and CEO of EARTHwise Centre. Anneloes has over 20 years of experience in transformational change and wisdom based innovation for individuals and organisations. She is also a writer, researcher, coach, trainer, and a mother. Her unique insight, vision, and approach for unlocking the development potentials of people and organisations, brings forth the deepest changes required for leadership and sustainability founded on love. Anneloes was instrumental in the development and implementation of the Education for Sustainability programme for the Catholic Schools network in Mauritius, active since 2011. In 2012 Anneloes developed the main methodology for the 2012 Rio+20 Global Dialogues, which was adopted in 9 different countries. She also played a key role with local stakeholders in the le Morne Mountain UNESCO World Heritage process.
Avinash Meetoo
IT Geek
Avinash is the Founder and CEO of Knowleged Seven, provider of MQA-approved training in information technology (mainly open-source software), communication and digital marketing since November 2008 and Knowledge Seven Consulting, service provider for Linux and other open source software, mobile and web development and digital marketing since January 2012. More than 15 years of practical experience in IT.
Fred Swainker
Entreprenuer
Fred Swaniker is a Ghanaian serial entrepreneur and a TED Global speaker. He has launched five organizations that aim at developing leaders, primarily in Africa. He is the chairman and founder of the African Leadership Academy, an institution located outside Johannesburg in South Africa that aims to develop 6,000 transformative leaders for Africa over a 50-year period. He is also the founder of African Leadership Network, Global Leadership Adventures, ALU and Africa Advisory Group. Fred Swaniker is a TEDGlobal Speaker.
Her Excellency Ameenah Gurib-Fakim
President of Mauritius
Ameenah Gurib Fakim is a locally and internationally acclaimed biodiversity scientist who serves as President of Mauritius. Ameenah Gurib-Fakim is the leading scientist studying the flora of one of the world's key biodiversity hotspots, the island of Mauritius. She was the managing Director of the Centre for Phytotherapy Research (Cephyr) and a professor of organic chemistry at the University of Mauritius.
Khurram Masood
Head of University
Khurram Masood, the Chief operating officer of ALU, left McKinsey and joined forces with Fred Swaniker to build ALU - a University that is developing the next generation of African leaders. Khurram wanted to live a life that mattered; he wanted to impact the world, hence, he left a life of comfort at a top consulting firm for a life of service to the African continent.
Lisl Foss
Psychologist
Lisl Foss has over 20 years of experience as a psychologist both at Rhodes University and currently at the African leadership University. She is also an avid traveler
Prof Roshni Mooneeram
Educator and political activist
Roshni Mooneeram was born in Mauritius in 1972. She completed a BA in English Language and Literature, an MA in Postcolonial Literatures and a PhD in Sociolinguistics at the University of Leeds in the UK. Shehas worked at the University of Leeds, Birmingham City University andthe University of Nottingham Ningbo China where she founded and directed the Division of English Studies. She was also Director of the Centre for Research in Linguistics at Nottingham. She has published widely internationally and been invited to present papers and keynote addresses at conferences from the USA to Japan. She returned to Mauritius in 2012 and works as Global Consultant to the University of Nottingham and as a freelance writer and Communication Strategist. She writes a regular column in Mauritian dailies on politics and policy. She is a mentor to the Grooming Young Mauritian Leaders Programme in Mauritius.