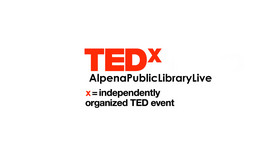 Share a day at the legendary TED Conference with your library community.
A simulcast viewing experience connects you with great ideas and with a global community of thinkers, artists and storytellers. Be among the first to see and hear these talks; and even more, a TEDxLive event can make for a unique and engaging day.
The theme of TED2016 is Dream. Dreams matter. TED2016 will be dedicated to the greatest dreams we are capable of dreaming, will stare hard at humanity's toughest challenges and listen carefully to those who can show us a way forward.
https://conferences.ted.com/TED2016/program/schedule.php
Session 1: Radical Repatterning 12:30-2:15 pm
Adam Savage Maker, critical thinker
Cédric Villani Mathematician
Haley Van Dyck Disrupter
So Percussion Percussion ensemble
Joe Gebbia Designer, cofounder, Airbnb
Travis Kalanick Problem solver-­in-­chief, Uber
Session 2: Imagination. Invention. Ingenuity. 3-4:45 pm
Wanda Diaz Merced Sonic astrophysicist
Holly Cohen Occupational therapist, tinkerer
Mae Jemison Astronaut, engineer, entrepreneur, physician and educator
Joseph Ravenell Men's health advocate
Ameera Ahmad Fixer
Franz Freudenthal Pediatric cardiologist
Blitz the Ambassador Afrobeat/hip-hop artist
Session 3: Lifehacks 6:15-8:00 pm
Tim Urban Blogger, cartoonist
Adam Grant Organizational psychologist
Brian Little Personality researcher
John McWhorter Linguist
Noah Zandan Data scientist
Kio Stark Stranger enthusiast
Session 4: Deep Memory 9:00-10:45 pm
Norman Lear Television producer, activist
Moran Cerf Brain hacker
Kenneth Lacovara Paleontologist
Tabetha Boyajian Astronomer
Silk Road Ensemble Musical explorers
Sarah Parcak Satellite archaeologist + TED Prize winner