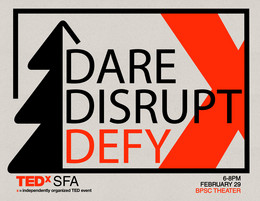 Change happens when we press against the prevailing winds and dare to ask "why must this be so?" Innovation occurs when we defy conventional wisdom and offer alternative ideas and models. Progress happens when disrupt old ways of thinking and offer creative solutions to common problems. Join TEDxSFA as we Disrupt, Dare, and Defy.
Speakers
Speakers may not be confirmed. Check event website for more information.
Alina Brown
Alina is a Nutrition & Dietetics Major at SFASU,
Ashley Doss
Graduate student at SFASU and a military wife of nine years.
Joel Livsey
Music major at SFASU.
John Davis
My major is business administration with a concentration in accounting. This means I have a deeper understanding of business and the power of the dollar than the average person. I am the State President of the NAACP & a Student Activist who has study the power of boycotting from the American Revolution to the Civil Rights Movement
Matt Wurst
I am a political science student at SFASU and am currently is a part of SFA's Student Government Association. I have done some research into voting behavior, and I am interested in how social media and my generation expresses our opinions to talk about political issues.
Megan Jenkins
Megan is currently completing a bachelors degree in biochemistry at Stephen F. Austin State University.
Nytesia Ross
As a 20 Year old college student I went through a period in which I was trying to find my voice. However, once I found it I realized how much of a positive difference I could make by simply being vocal about my feelings and ideas. I've been reciting poetry ever since the age of 13 and have been blessed to speak in numerous states and this past year I was blessed to be able to speak at the Kennedy Center in Washington, DC.
Shatavia Wafer
Shatavia is a first generation college student at SFASU.
Tristin Harris
Harris is a student at SFASU where he serves as the Student Body President.