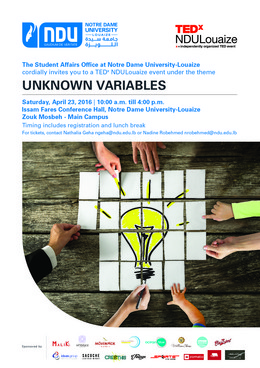 If you were an 80s or a 90s kid, one of your favorite games could have easily been 'connect the dots'. Letters or numbers connect in an orderly sequence to form the perfect image. Kids are thrilled when the tip of their pencil connects those last two dots, and the image is finally complete.
And so it is with Life. The day you find yourself on the graduation podium, the day you sit comfortably behind your office desk, the day you sigh with satisfaction at your latest invention, is perhaps the day you look back and ask yourself: What is the common denominator of everything I do?
In his book, 'The Tipping Point: How Little Things Can Make a Big Difference', Malcolm Gladwell describes that magical moment "when an idea, trend, or social behavior crosses a threshold, tips, and spreads like wildfire."
TEDxNDULouaize's 2016 speakers will go back in time to walk you through a labyrinth of unknown variables, variables that eventually connected to form the perfect image in their minds.
Speakers
Speakers may not be confirmed. Check event website for more information.
Musicians
Roger A- Smith, Owner & Founder of 'Music-A', 'Music House', and 'Beirut Violin Shop' has been a cellist, yoga therapist, and quote writer for more than 10 years. Roger is also a soccer player who didn't make it to the professional level but enjoys performing this sport. Roger believes that "if a Passionate individual is filled with a Compassionate Heart & a Conscious Spirit, he surely is leading a Wise, Healthy and Joyful Life." Born and raised in Armenia, Garunik Ghazaryan appeared as a young musician with unconditional talent and great potential. She started to be recognized in the Lebanese music sphere 5 years ago, when she finally decided to move to Beirut from Yerevan, Armenia. Her passion towards classical music and the special way of her performance made Garunik known and loved by her audience. Garunik's Motto: "There is no competition of sounds between a nightingale and a violin."
Ahmad Sayyed
Artist
"To create is to think out of the box and to use whatever you have to do what you Love out of it." "There are many prisons. One is the prison of the mind. At any moment I have the capacity to step out of the window of my situation by stopping and re-positioning my consciousness out and above my situation. When I view it as a detached observer, I am able to gain a fresh perspective and fresh air. Today, let me open the window of my mind."
Alma Abou Samra
Pharmacist
Alma is a pharmacy graduate. To satisfy her innate passion for the world of scientific research, she is doing her PhD in drug discovery in France. Added to this, she acquired a seemingly different, yet equally strong, passion for the world of media. Between the glamour of lights, cameras and stages, the serious longing for discovery, and the determination of a researcher, Alma is trying to find the right ingredients to get the best of both worlds. Heaven for her is a cozy armchair, a book or Disney movie, along with a mug of green tea. Her life motto is Dante's: "The darkest places in hell are reserved for those who maintain their neutrality in times of moral crisis."
Carine Bou Doumit
Singer
Carine Bou Doumit is a passionate Lebanese singer; she has been singing professionally since the age of 15, and interprets oriental & occidental music in Arabic, French and English. Carine is studying music in the Lebanese Conservatory along with a private coach; she was a member of the NDU choir for 9 years and has participated in many big concerts as a soloist. Carine enjoys her talent and thinks that it is God's gift to her; she tends to keep on sharing her love towards this art with everyone as she believes that: "Music is a language that anyone can understand because it comes from the heart."
Elias Abou Mrad
Architect
Elias Abou Mrad is a Lebanese architect, landscape planner and activist. He's always had a passion for trains and, since 2013, has been studying the effect of railways on the development of territories and landscapes. Elias is currently working with Train/Train NGO to preserve Lebanese railway heritage on one hand, and to rehabilitate all railways in Lebanon on the other. Elias's Motto: "The future has a way of arriving unannounced."
Engineer
Elie Awad has a background in technology as well as in civic engagement. He pursued his Masters in Engineering at MIT and was later appointed as manager at IBM in the USA, where he was granted several invention patents and awards. He then moved to the non-profit sector and ran an NGO for several years. He is passionate about using technology to solve social problems in creative and sustainable ways.
Eugene Sensenig
University Professor
Eugene Richard Sensenig is a professor for political science at Notre Dame University. He is active in fields such as sustainable infrastructure development, electoral reform, interfaith dialogue, and minority/immigrant/refugee rights. Eugene has published a wide variety of articles and books on the Armenian Genocide, Austrian Orientalism, and high altitude metal mining. He is married and has two daughters. His interests include Tango Argentino, Alpine hiking, and jazz. Eugene's Motto: "The dust of archives is the gunpowder for revolution."
Hussein Hassan
University Professor
Following his PhD studies in Food Process Engineering at McGill University, Canada, Hussein Hassan joined the Lebanese American University in 2011 as a Professor of Food Science and Technology and Academic Coordinator of the Food Safety certificate program. In addition to his passion in research that has resulted so far in scientific publications in international high impact journals, Hussein created a Bekaa-based NGO: "The Lebanese Association of Coexistence and Development". His NGO has been active in promoting the culture of religious tolerance and civic engagement among local citizens.
Makram Barazi
Martial Arts Trainer
Makram spent 30 years of his life as a martial artist, from student to fighter to coach. He's a father, a biker and an artist. Makram teaches Brazilian Jiujitsu and Mixed Martial Arts and, with that, he changes the lives of his students ranging from abused women to bullied kids to people who are just looking to be fit and staying in shape, as well as those who are searching for inner peace. Makram's motto: As the great Bruce Lee said: "Do not pray for an easy life, pray for the strength to endure a difficult one."
Nada Barakat Khawaja
Special Educator
Nada Barakat Khawaja is an author, trainer and consultant in the field of special education. She is also a strong advocate of people wth special needs and their families. Her biggest passion is empowering families of children with special needs. Nada's Motto: "I believe in the sun even when it is not shining."
Founder and CEO at NBTS
Dr. Naji Bejjani pursued his Post-Graduate studies in Econometrics in La Sorbonne, Paris and holds an M.B.A. from I.E.S.E., Barcelona. He taught senior undergraduate, MBA, and Doctoral courses in Lebanese universities. For the past 30 years, he has been a management consultant and trainer to a large number of businesses, NGOs, and government institutions, and a key note speaker in major worldwide conferences. He is a coach and adviser of CEOs, politicians, and opinion leaders. He has also trained and coached several young entrepreneurs on marketing and management issues. Naji is a jury member in BERYTECH's Business Plan Competitions and in the MIT – Arab Business Plan Competitions. He also co-founded the "Entrepreneurship Centre-Lebanon", an inter-university club to brainstorm new ideas and to help graduate students to start up their own business. He has been a guest in many talk shows on Lebanese TV to talk about business issues. He has represented Lebanon in the leading European cult
Founder and CEO at The Agenda Beirut
Tony Abou Ghazaly comes from a family that had a business in contracting. Following the ups and downs this field experienced, he decided to follow business studies and chose logistics. After an internship in a transport company, he realized that he did not like his specialization at all. This made him research a lot until he found a course at Istituto Marangoni in Paris on management in the luxury sector. He followed it by intuition. On his return to Lebanon, he was recruited by Chanel in the logistics department. It was a very rewarding experience that combined both his majors. At some point, Tony did his masters in media studies, focusing on advertising. Feeling the lack of institutions in Lebanon that provide specific courses in a short period, he decided to create 'The Agenda Beirut' that provides diversified courses: art, luxury, media, society. Tony's belief: "You've got to find yourself first. Everything else will follow."
Project Manager of Zero Waste Act
Originally from Metn Lebanon, Yvonne holds a bachelor degree in chemistry and a masters in Industrial Technology. Her final Project was dedicated to "Ozone problems", which is a key environmental issue. Yvonne has 9 years of experience in quality management and six years in renewable energy and recycling. She has been leading the Zero Waste ACT® project from the very beginning (2011) to date. This project aims at changing the way waste is managed throughout the country. Yvonne's Motto: "No one is better than me; I am better than no one. Don't follow the beaten path; go your own way and follow the trail."
Organizing team
Abed Beydoun

Team member

Claude Bou fadel

Team member

Danielle Chucri

Partnerships/Sponsorship

E Mouawad

Team member

Evette Abou Samra

Partnerships/Sponsorship

Ghada Faddoul

Team member

Jack Ghazleh

Post production

Jasmin Lilian Diab

Curation

Rasha Ghabash

Team member

rhea mekanna

Team member

Sami Ahmadieh

Team member

Sarah Younes

Team member

Suzy Taslakian

Team member

Therry Wazen

Partnerships/Sponsorship