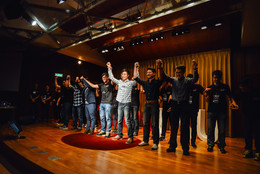 In the spirit of ideas worth spreading, TEDx is a program of local, self-organized events that bring people together to share a TED-like experience. At a TEDx event, TEDTalks video and live speakers combine to spark deep discussion and connection in a small group. These local, self-organized events are branded TEDx, where x = independently organized TED event. The TED Conference provides general guidance for the TEDx program, but individual TEDx events are self-organized (subject to certain rules and regulations).
Speakers
Speakers may not be confirmed. Check event website for more information.
Co-founder & COO
Wu Chian Liang is an enthusiast of pursuing and creating stories, enjoying challenge and change like no other. In 2010, he founded Niceday traveling, and now he is co-founder and Chief Operating Officer of the company.
Founder of Sicuanga Multilingual League
At age 20, Chih Hsiang was inspired by his professors in linguistics to become a polyglot. For the next 10 years he traveled around the world conducting formal and informal language studies, including field experience in Ecuadorian Kichwa and self-initiated research of KiSwahili in Tanzania. Now Hsieh is freelancing as a teacher, interpreter, and writer to help people communicate their ideas better in different languages. He believes that communication is not only the cornerstone of our society but also the key to successful language acquisition.
Joseph Ku
Joseph Ku has been coding since he was child. For the last 10 years, Joseph has dedicated himself in B2B application startups and promoted Ruby on Rails. He also has been invited as instructor in RubyConf Taiwan in 2012 and 2014.
Senior Engineer / Writer
Meng-Lin is the Senior engineer in Taiwan's largest IC design house and the blogger on some magazines. He has published three books and founded a travel association.
CDO
Ted Lin is CEO of fiNext Inc. and currently dedicated himself on changing the old insurance industry in Taiwan. Lin and his team zero-in data analysis and consumer behavior to find out the possible solution to change the insurance industry in Taiwan.
co-founder and brand manager at justfont
Wei-Hsiang Su (Winston), 26, is one of the co-founders of font design company: justfont. Justfont is a Taiwanese web font application and font design company, which is well known for their recent success of a new Taiwanese font crowdfunding campaign: JF Jing Shuan font . After receiving his BA in Chinese Literature from National Taiwan University in 2012, Su joined justfont and has been in charge of the company's branding and marketing strategies and operations. One of his famous works is A Chinese Font Walk, the first book to introduce stories about traditional Chinese fonts.