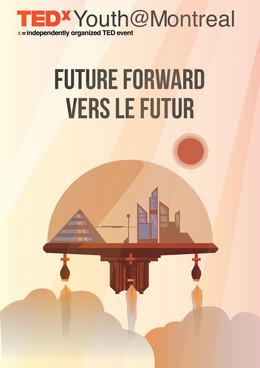 In the spirit of ideas worth spreading, TEDx is a program of local, self-organized events that bring people together to share a TED-like experience. At a TEDx event, TEDTalks video and live speakers combine to spark deep discussion and connection in a small group. These local, self-organized events are branded TEDx, where x = independently organized TED event. The TED Conference provides general guidance for the TEDx program, but individual TEDx events are self-organized (subject to certain rules and regulations).
Speakers
Speakers may not be confirmed. Check event website for more information.
DF duo
Spacious, pulsing, emotive, and bright. DF is Dustin Finer and Dan Freder. Dustin composes and plays original music for saxophone and looper. Dan designs lights with found materials and programs their responses in real time. Performances create an interactive space where sound and light influence one another.
Abdo Shabah
Dr. Shabah completed his medical specializations at the University of Montreal, and then undertook a Masters in Business Administration (MBA) from McGill and HEC Montreal. He is currently associate professor at the University of Montreal, at the School of Public Health. Captivated by emergency medicine in austere environments, he has completed several missions in Haiti since the earthquake in 2010, mainly with the Canadian Red Cross. His great interest in new technologies led him to focus on the problem of the "digital divide" in crisis, defined as the economic and the social inequality with regard to access to, use of, or impact of information and communication technologies. His recent work has focused on creating a distributed cloud-like computing ecosystem on smartphones replacing the Internet in austere environments.
Anya Pogharian
I am an 18-year-old Marianopolis college student from Montréal, who has always been interested in medicine and health. Throughout my high-school years I have been actively participating in a vast range of extracurricular actives. Over the past two summer, I volunteered as a companion to patients with brain injuries at Montreal General Hospital. While at the General, I also had the chance to train as a volunteer in the dialysis unit. My time spent in that unit inspired me with the idea of trying to devise a dialysis machine affordable to patients in developing countries. I built a prototype on my own spare time, and my school selected it for entry into the Montreal Regional Expo-Science fair. This lead to Provincial science fair and finally the Canada Wide Science Fair where I was awarded bronze. Now 2 years later, I am still hard at work on this dream that has become my passion.
Claudia Lighter
The winner of our first ever Youth Speaker Contest is Claudia Lighter! Claudia Lighter is a fourteen-year-old, grade eight student at St-George's High School. Claudia loves science and math, but also loves many other subjects too. She participates in Glee, both at the competitive and group level. She plays on the soccer, basketball and tennis teams at St -Georges and is seriously contemplating touch football. Claudia really enjoys community service and is working this year with ALS Quebec. In her spare time Claudia plays the piano and the trumpet and she loves skiing and water-skiing Her dream is to become a doctor and to cure a disease.
Emily Standen
Em Standen has always loved fish. At the age of five she met an enormous stuffed lake trout hung on the wall of an old fishing lodge, which sparked her life-long fascination. She has been a fisherperson, fisheries researcher, fish scientist, and a friend to fish. She has tracked salmon migrating up the Fraser River, filmed fish in fast flowing rivers, fired lasers at fish and most recently has tried to teach fish to walk. Her fish obsession has taken her from coast to coast and back again: to Dalhousie University, the University of British Columbia, Harvard University, and McGill University. She has now emerged as a professor at the University of Ottawa, where she is an evolutionary biomechanist studying how fish move in water and over land. She happily spends her days learning from fish and teaching humans about fish; all thanks to an enormous stuffed lake trout from Northern Ontario.
Emmanuel Mavridakis
I am Emmanuel Mavridakis, a fifteen year old young man who is passionate for basketball and sneakers. When I was 13, I was struck by a speeding car leaving me with temporary paralysis in my lower body. Now, every day, I face the world, not on two legs, but on four wheels. I defy the odds and continue with my rehabilitation therapy. I've even started taking my first steps. When I wake up in the morning, I take my positive attitude with me everywhere and try to pass it on to others. One year after the accident, I traveled to Toronto to watch a basketball game. During the pre-game warm up, Kevin Durant, my idol, came and sat with me for an hour. Ever since then, he has inspired me to push and be my best. I truly am blessed to be surrounded with my loving family and friends and thank god every day.
Gabriel Filippi
Gabriel Filippi is a world-renowned athlete. He has traveled to over 40 countries to climb cliffs, falling ice and high altitude mountains. To date, he has made more than twenty expeditions in the Himalayas, 5 of which have been to Mount Everest. He is the only Quebecer to have climbed Everest from both sides. Last April, he was in Nepal during the earthquake that killed more than 8,000 people. Gabriel was present at the base camp in Mount Everest, which killed 20 and seriously injured 72. His projects are both spectacular and innovative. In 2003 he achieved a world first, as expedition leader, by bringing a heart transplant recipient to the top of Mont Blanc. He climbed the highest peak of 6 of the 7 continents, the 7th being Antarctica where he will share with us a big surprise.
Joanna Berzowska
Joanna Berzowska is Associate Professor and Chair of the Design and Computation Arts Department at Concordia University as well as the founder and research director of XS Labs, a design research studio with a focus on innovation in the fields of electronic textiles and reactive garments. Berzowska is also the Head of Electronic Textiles at OMsignal, a wearable and smart textile platform that enables leading fashion brands to design smart apparel. A core component of her research involves the development of enabling methods, materials, and technologies, focusing on innovation in composite functional fibers, soft electronics, and additive manufacturing.
Lenni Kim
Lenni-Kim, un jeune chanteur et comédien Canadien de 14 ans, enfant unique d'une famille Montréalaise possédant une joie de vivre contagieuse qui sème le bonheur partout où il passe. Il est un véritable exemple pour la génération d'aujourd'hui. Bourré de talent, nous l'avons vu faire ses premiers pas en tant que comédiens dans des films, émissions télévisées et publicités. Lenni-Kim a toujours eu une passion indéniable pour la musique et la scène. Ce n'est pas pour rien qu'il a signé un contrat de disques avec JysMusique pour la sortie de son premier album d'ici la fin de l'année, réalisé par Louis Côté.
Rosanna Tomiuk
If there are two words to describe Rosanna, they are passionate and relentless. She is no stranger to setting goals and going after them. At 31, her life has been rich in experience and lessons. She grew up in Montreal, went to university in Los Angeles and has traveled to more than 27 countries. Rosanna played water polo for fourteen years, becoming a Junior World Champion at seventeen and continuing on to win various international medals with Team Canada. Although she studied Biology, since retiring from being a professional athlete, Rosanna has become a transformational-coach-singer-songwriter-entrepreneur-motivational-speaker.
Valérie Bécaert
Valérie is director of l'Institut de valorisation des données (IVADO), which brings together more than 900 scientists working to process economic and social data from all sources and all forms. She holds a PhD in Chemical Engineering from Polytechnique Montréal in environmental modeling. Her career began as a researcher in the field of life cycle analysis, a powerful tool employed to model the potential impact of human activities on the environment. Thereafter, she was named Director CIRAIG, International Reference Centre for the Life Cycle of Products, Processes and Services, and co-founder of CIRODD, Interdisciplinary Research Center on Sustainable Development Operationalization, of which she was the Director. By working with optimization and mathematics researchers to solve environmental problems she was convinced that our ability to generate, analyze and value big data would change the world.
Victoria Gilmore
Vikki Gilmore is an eighteen-year-old singer-songwriter from Montreal, Canada. Her style ranges from indie to alternative folk. She began her career as a musician posting her first YouTube cover in July of 2012. Since then, her various cover songs have been recognized by artists such as Emblem3 and Iggy Azalea. She released her first EP 'Hope/Espoir' as a senior year project in May of 2014 to raise awareness for lung cancer research. Her single 'Who We Are' as well as self-produced music video for the song were released on October 1, 2014. A new 5-song EP is currently in the works and is set to be released later this year. Vikki is a passionate artist who strongly believes in the idea that music is the universal language of the soul and that through music we can connect with anyone on an emotional level. She currently performs at local venues in the Montreal area.