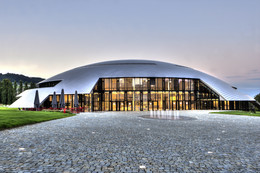 Our visions, our hopes, our fears ... what comes next and what should come next? How do we achieve our ambitions and why? Seven speakers from across the world will give their answers to some of these questions. And five students from Swiss boarding schools will share their ideas in 3-minute presentations.
Speakers
Speakers may not be confirmed. Check event website for more information.
Rebecca and Julia
Two students from Brillantmont in Lausanne talk about making education more interesting
Andrey M.
Andrey comes from Kazakhstan and has been at Aiglon College since the age of 9. Involved in many activities and cultural programs, he is also a keen public speaker.
Celina C.
Celina is in her final year of the IB at Le Rosey
Performance Storyteller
Dominic is a contemporary performance storyteller whose dynamic, engaging style has captivated audiences in theatres, festivals and schools across the UK, Sweden and around the world. He tours performance pieces, creates new work to commission - including site-specific pieces - and also tells stories from his repertoire for both adult and family audiences. Dominic is a performance storyteller with an international reputation for dynamic, powerful and entertaining work.
Emily Vossen
Neurodevelopment
Having started off her career as an Event Coordinator, then moving into Private Wealth Management at Goldman Sachs, and later becoming a mother to 3 children, the last thing on Emily Vossen's mind, was becoming an expert in Neurodevelopment! But following her son's brain injury in Dec 2010, she was launched into the latest brain research, and started to learn about Neuroplasticity and all the possibilities that come with it. More importantly, she saw how little is being done to support and help people with any type of brain disorder. Her view is that a multi-disciplinary Neurodevelopment Centre, where neuroscience, clinical expertise and families meet, is the answer.
TV Presenter and Journalist
The media has described Geoff as "one of the rock stars of science". He hosts Science Channel's award-winning adventure series Meteorite Men and the Emmy Award-winning STEM Journals. He is also an internationally recognized authority on meteorites, an award-winning author and photographer, a musician, world traveler, and adventurer. Geoff is the president of Aerolite Meteorites Inc, the world's largest commercial meteorite company and a leader in space rock recovery and research.
Photographer
In 1987, after 10 years at a Jesuit boarding school in the North of England, Jimmy Nelson set off on his own to traverse the length of Tibet on foot. The journey lasted a year and upon his return his unique visual diary, featuring revealing images of a previously inaccessible Tibet, was published to wide international acclaim. In early 1994 he and his Dutch wife Ashkaine produced Literary Portraits of China, a 40 month project that took them to all the hidden corners of the newly opening People's Republic. From 1997 onwards, Jimmy started accumulating images of remote and unique cultures photographed with a traditional 50-year-old plate camera and awards followed. International exhibitions and acclaim created the Before they Pass Away in 2010. Jimmy Nelson spoke at TEDx Amsterdam in 2013 and at TED Global in 2014.
Laurie Stach
Executive Director of Launch
Laurie graduated from MIT, worked at GE Energy and at BMW Designworks prior to her MBA at Harvard Business School. She has worked as a consultant at Boston Consulting Group, and she is now the Program Manager of High School Education at the Martin Trust Center for MIT Entrepreneurship. She is also the Founder and Executive Director of Launch. Launch was born from the idea that high school students have enormous untapped potential and that the current education system isn't preparing them well enough for the real world. Launch teaches students to be resourceful, adaptable and innovative and that there's not one right answer to a question – and that coming up with the question is as important as the answer.
CEO
Olivier Ferrari began his career in the property management sector and fiduciary services. In 1990, he founds CONINCO Explorers in Finance SA, a financial company specialized in asset management for institutional, private and philanthropic investors. The company is also specialized in sustainable funds management. Since 2012, he has been the CEO of the company particularly in charge of private and philanthropic investors. He also focuses on all topics in link with industrial economic sustainable development and responsible investments.
Long distance runner
In 2008, Ray founded impossible2Possible an organization that aims to inspire and educate youth through adventure learning, inclusion and participation in expeditions. Impossible2possible mirrors Ray's own journey from pack-a-day smoker to ultra-runner who has crossed the Sahara, Patagonia and the Antarctic.
Tim B.
Tim is a student at Collège du Léman in Switzerland
Yelena K.
Yelena Kesteloot is a French and British 17 year old currently studying in Le College Alpin Beau Soleil in Switzerland. She spent her childhood in Manchester as well as Picardie, in Nothern France and latterly spent her last 5 teenage years living in Saudi Arabia.