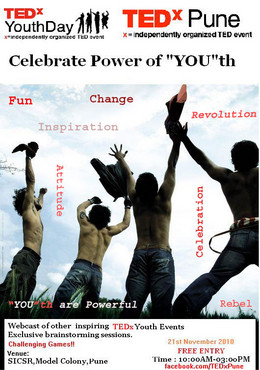 TEDxYouthDay is a series of TEDx events happening all around the world on November 20. The events are designed to empower and inspire young people.
On November 20, 2010 — Universal Children's Day — TEDx organizers across the globe will host events for (and by) young people. These events will vary widely in size, format and theme, but they will share a common vision: inspiring curiosity, igniting new ideas, empowering young leaders.
TEDxPune Team will celebrate Youth@Pune on 21-November 2010.
To get more more updates about Event, Please stay connected with : http://www.facebook.com/TEDxPune