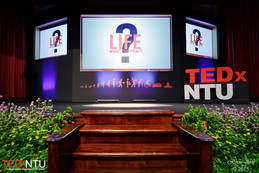 This TEDxNTU event featured practical/realistic ideas and arguments on existence, reality and meaning of life; speakers from diverse domains including Biology, Physics, Psychology, Philosophy, etc. and also anecdotal down-to-earth approaches. Speakers explored and discussed that profound and yet simple question we all have, "Life - What's the point?".
Through, a blend of deep scientific/philosophical ideas along with simple down-to-earth approaches and arguments about the "Purpose of Life", We enlightened the audience with new and deep perspectives about "life".
We also rationally challenged popular notions on the question "How to live a more meaningful life?" in a practically viable manner, while concluding the event with insightful and personally relevant conclusion(s) to the eternal question, 'Life - What's the point?'
For any queries write to tedxntu@gmail.com
Facebook: https://www.facebook.com/TEDxNTU
Twitter: https://twitter.com/tedxntu
Speakers
Speakers may not be confirmed. Check event website for more information.
Organizing team
Aaron Tan

Production

Dinesh Kumar Chobey

Marketing/Communications

Gowtham Durai

Partnerships/Sponsorship

Hendri Zhang

Production

Hongjiao Zhu

Production

John Nathan Fernandez

Production

Kalpesh Chaudhari

Team member

Kee Jin Lee

Curation

Kristen Sadler

Team member

Mahesh Kumar Chobey

Team member

Md Shafquat Ullah Khan

Team member

Muhammad Zubair

Team member

Oindrila Dutta (Jhilik)

Production

Pui Mun Lee

Curation

Raj Shekhar Chipurapalli

Team member

Rajagopalan Badrinarayanan

Production

Ray Han

Partnerships/Sponsorship

Rohan Sood

Partnerships/Sponsorship

Roomi S

Team member

saurabh singh

Marketing/Communications

Solange E. Astorga

Team member

Sumanta Bose

Marketing/Communications

Suneel Kumar Cheekati

Team member

Sushant Shendre

Curation

Utkarsh Shah

Team member

Yemineni Sivasankara Rao

Team member

Zishan Ali

Production