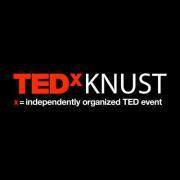 2015 TEDxKNUST takes a look at local solutions for local problems.
Speakers
Speakers may not be confirmed. Check event website for more information.
Akolbire Derrick-Brown
Student
Akolbire Derrick-Brown is a 22 year old final year student at KNUST reading Mechanical Engineering. He led InGineX, a group that was runner up in the second edition GESA Makers Faire with PySpy, the visual fire detection system.
Asabea Agbenu
Communications Consultant
Asabea Agbenu is the lead consultant at Windrow a consulting firm specialised in service strategy, corporate communications and training. Realising her natural gift for human capital development and a niche for bringing out the best in people, Asabea set up Windrow after 6 years in corporate service to help organisations cut cost, maximise productivity and revenue through exceptional customer service and training and development. She started her career as a customer service personnel at TF Financial services then to Fidelity Bank where she moved from Service Quality Executive to a Service Support Manager. She has also worked as the Corporate Affairs Manager for Dalex Finance.
Audrey Forson
Designer
Audrey Forson is a furniture designer and manages a family owned business called Tekura which makes handcrafted furniture and décor for homes and other interiors. She works with local artisans to carefully design and create unique pieces that are inspired by African art and culture.
Ofori Charles
Student
Ofori Charles is currently working full time on an affordable practical science kit set to revolutionize education in Ghana and across Africa by putting a mini science lab in every students bag.
Paa Kweku Woode
Creative Consultant & Brand Strategist
Paa Kweku (P.K.) Woode , is a young creative and entrepreneur with over 5+ years of experience in design, branding, experiential and creative marketing. He has worked for, volunteered and consulted with a variety of small and large scale organisations, from fashion and lifestyle through to technology. His specialty is in creatively blending and connecting digital technology with real world experiences. He also excels in creative development, brand strategy and execution. On a personal note, P.K believes in the power of ideas, experiences and stories, and strongly advocates for the power of "community". P.K is a lover of fringe science, arts, strategy, design and technology. In his leisure time, you can find him reading, watching something new or collecting random bits of seemingly disconnected trivia..
Samuel Amoako-Frimpong
DIY enthusiast
Samuel Amoako-Frimpong is a recent Aerospace Engineering graduate from KNUST, a DIY enthusiast, and an amateur photographer. As an avid maker, he has worked with teams on projects including drones, RFID access controls, high altitude balloons, wheeled robots, wind turbines, augmented reality and virtual reality apps, among others. With a passion for science and education, he has taught students for years, in areas like general science, electronics, robotics and computer vision, as well as the development of software to enhance science education. This he does with the belief that education in science and technology, possesses enormous potential for socio-economic development. He has served as VP for the Association of Aerospace Engineering Students and the Creativity Group - KNUST, and has won multiple awards for his achievements locally and internationally.
Seth Kwame Boateng
Journalist
Seth Kwame Boateng is a journalist with JOY FM. He was adjudged the best journalist in 2014 by the Ghana Jounalists' Association. Many of his documentaries have drawn attention to critical issues in society such as sickle cell condition and plight of prisoners in Ghanaian prisons.
Urban spaces architect
Yaw ''DK'' Osseo-Asare is Principal and Co-Founder of Low Design Office (LOWDO), an architecture studio based in San Antonio, Texas and Tema, Ghana. Fulbright Scholar and Global TED Fellow, DK received both an A.B. in Engineering Design and an M.Arch from Harvard University, where he studied kinetic architecture and network power. His research spans design innovation, open-source urbanism, informal and digital fabrication. He has presented his work at the Royal Institute of British Architects, Harvard Graduate School of Design, Smart Cities Expo, TED Global and on the BBC.