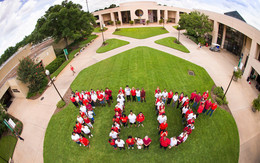 Come and experience what's new and next in an environment that only a TedX event can produce at TEDx ValenciaCollegeLive! Tune in and turn up the volume on the next wave of creativity under the theme of "Truth or Dare."
At TEDxValenciaCollegeLive, you'll broaden your perspectives and perhaps unearth new truths while exploring interactive, idea-sparking stations that include:
Experience some amazing TED Talks from some of the brightest minds as we present in time-delayed simulcast from TED2015 happening in Vancouver, BC, Canada
Dare to Eat (the Truth about Food)
Delight and expand your palate by sampling unique foods.
Dare to Do (the Truth about YOU!)
Take part in the Truth or Dare Games
Dare to Dream (the Truth about Life)
Forget your "have-to-do" and explore the "want-to-do" of your dreams!
Make connections. Spark conversation. Experience the power of collaboration — all right here in your community!
To receive updates and information via text, text @tedxvcl to 81010 or email tedxvcl@mail.remind.com.