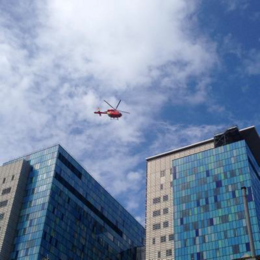 TEDxBartsHealth : 22 October 2015
Our inaugural TEDx event was chaired by John Bacon, Chair of Barts Health and featured clinicians including Professor Jo Martin, Michelle Parker, Mr Leo Cheng, Ms Swee Ang, Mr Shafi Ahmed, Sir Sam Everington and Mr Ajit Abraham talking about their personal experience in the UK and abroad, what they have done to transform safety and compassionate care and why this matters to our patients and their families.
The event was about recognising excellence in clinical practice, sharing the learning from local and global health systems and supporting our staff to do their best for our local population. This was an internal event for Barts Health staff.
Speakers
Speakers may not be confirmed. Check event website for more information.
Michelle Parker
Michelle is a Consultant Nurse for Older People, specialising in the care of people with Dementia. She works as part of the Older People's Liaison Service at Newham University Hospital and with Newham Memory Services. She is currently studying for a doctorate at City University focused on the timeliness of receiving a Dementia diagnosis following an acute hospital admission. Michelle is currently leading on the implementation of the trust Dementia Strategy, working with staff to raise awareness and knowledge about caring for people with dementia in hospital, improving our support of carers and looking for ways to make our hospital environment dementia friendly.
Mr Ajit Abraham
Ajit has been a Consultant HPB Surgeon at Barts Health since 2005, and is Hon. Senior Clinical Lecturer at Queen Mary University London. His surgical interests include diseases of the liver, bile duct and pancreas, trauma, and emergency surgery. His other interests are clinical leadership, quality improvement and patient safety. He was Health Foundation QI Fellow at the Institute for Healthcare Improvement and Harvard 2011-12, and Assoc. Medical Director for Improvement, Innovation & Safety at Barts Health 2013-14. Ajit was appointed Executive Group Director for the Surgery & Cancer Clinical Academic Group at Barts Health in July 2014. He is married with two children, plays golf badly, and has a longstanding interest in yoga and meditation.
Professor Jo Martin
Professor Jo Martin qualified from Cambridge University and the London Hospital Medical School and has a PhD in Cellular Pathology in Motor Neurone Disease. She is a practising consultant histopathologist and Professor of Pathology at Queen Mary University of London. She also has a Masters degree in Leadership and a range of management experience including divisional director of clinical and diagnostic services. Jo was appointed by Professor Sir Bruce Keogh as the National Clinical Director of Pathology Services at the Department of Health in 2013 to ensure all patients, wherever they are in the country, have access to pathology services of the highest quality.
Shafi Ahmed
Shafi was appointed as a Consultant General, Colorectal and Laparoscopic Surgeon at The Royal London and St Bartholomews Hospitals in 2007. He performed research on the genetics of colorectal cancer and obtained his PhD from the University of London. He was elected to the Council of The Royal College of Surgeons of England in 2014. Shafi is also an Honorary Senior Lecturer and is an Associate Dean at Barts and the London Medical School. He is an Alumni of exponential medicine and his mission is to make surgical care equitable globally. In 2014 he pioneered the use of Google Glass during surgery which allowed his view to be broadcast live to 14,000 surgical students around the globe who were able to interact with him as he performed the operation. He is currently working with global tech companies to develop both augmented and virtual reality in delivering global surgical solutions
Sir Sam Everington
Sir Sam Everington - OBE, GP, Barrister and Vice-President, BMA has been a GP in Tower Hamlets since 1989, is chair of Tower Hamlet's CCG and a Board member of NHSCC. He is part of the Bromley by Bow GP partnership, with over 100 projects. He is governor of a local primary school and was one of the founders of THEDOC – Tower Hamlets GP Out of Hours Service. Sam is a qualified Barrister, a member of BMA Council and Vice President of the BMA. In 1999 he received an OBE for services to inner city primary care in 2006, The International Award of Excellence in Health Care and in 2015 a knighthood for services to primary care. He is a director of Community Health Partnerships (NHS Lift). He is a Trustee of the Kings Fund and Fellow of Queen Mary University of London. He has previously been a member of GMC Council, Cabinet appointed Ambassador for Social Enterprise and Acting Chair of the BMA. He is a trained woodcarver, welder and Day skipper and speaks Norwegian.