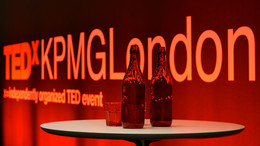 In the spirit of ideas worth spreading, TEDx is a program of local, self-organized events that bring people together to share a TED-like experience. At a TEDx event, TEDTalks video and live speakers combine to spark deep discussion and connection in a small group. These local, self-organized events are branded TEDx, where x = independently organized TED event. The TED Conference provides general guidance for the TEDx program, but individual TEDx events are self-organized (subject to certain rules and regulations).
Speakers
Speakers may not be confirmed. Check event website for more information.
Inventor and co-founder of Blocks Wearables
Alireza is a student and researcher at Imperial College London, working on Human-Computer Interaction and Neural Interfaces. At the age of 21, he has published one book and various scientific papers, has won various medals in international Olympiads and innovation festivals, and holds several patents. He invented the world's first modular smartwatch and co-founded Blocks Wearables with Serge Vasylechko to develop this idea. In this talk, he will be discussing why open-platforms and customisation is the future of consumer electronics.
Global Managing Partner, Social Consulting at IBM
Andrew is a Global Partner at IBM Interactive Experience, based in London. He leads a team of social business professionals across Europe providing strategic advice and delivering complex projects across all industries. Andrew was approached due to his expertise in the fields of social media and social business which are of increasing interest in today's world.
Founder of the Female Entrepreneur Association
Carrie is the founder of the Female Entrepreneur Association, a global network of 200,000 women from around the world. The platform aims to inspire and empower women to build successful businesses through videos, master classes and an online community. An inspiring, young entrepreneur, starting her own business at 20, Carrie's experience highlights that age/sex are no boundary to success.
Christel Wolthoorn
Director in KPMG's Digital & Analytics Team
Christel Wolthoorn is a Director in the Digital and Analytics Team at KPMG and prior to this, was Head of Internal Communication and Engagement at Deloitte. She has previously consulted and supported a number of firms on communications and cultural change.
Chief Operating Officer at CDI Apps for Good
Debbie is the UK Managing Director of CDI Apps for Good, an award-winning education technology movement that helps young people learn to create imaginative mobile apps, giving them a launch pad in social enterprise. We approached Debbie due to the inspiring way that she has influenced social mobility by using technology to inspire the younger generation.
Eleanor Winton
Director in KPMG's Thought Leadership Team (SIGHT)
Eleanor joined KPMG in 2006 and, following a career investigating financial crime in KPMG Forensic, became part of the firm's Foresight and Innovation team in 2010. Eleanor works directly with client boards; helping them to uncover where, how and why they and their markets are being disrupted. She is also part of the team designing and delivering KPMG's ground breaking 'C-suite Programme'.
Department of Brain Repair & Rehabilitation at University College London (UCL)
Professor Geoffrey Raisman is a world-class British neuroscientist who leads a dedicated team, pioneering the repair of spinal cord injuries. Recently, Professor Raisman has been in the headlines for being the first person to develop a treatment that has helped a paralysed man walk again by taking regenerative cells that repair our sense of smell and transplanting them in to a damaged spinal cord. His tireless work highlights how innovation and research can truly impact our society and shape our future.
Rory Sutherland
VC of Ogilvy Group UK
Rory joined Ogilvy & Mather's planning department in 1988. An early fan of the Internet, he was among the first in the traditional ad world to see the potential in these relatively unknown technologies. Rory was selected due to his previous TED talks, including 'Perspective is Everything' where he makes a compelling case for how reframing is the key to happiness.
Stephen Bonner
Partner in KPMG's Cyber Security Team
Stephen Bonner is a Partner in the Cyber Security team at KPMG where he leads a team focused on Financial Services. Prior to KPMG Stephen was Group Head of Information Risk Management at Barclays. He was inducted into the InfoSec "Hall of Fame" in 2010 and was Number 1 on the SC/ISC2 'Most Influential 2010' list.