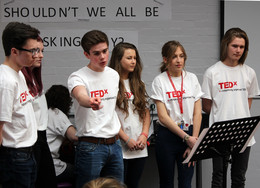 TEDxSouthmoorAcademy is about change, creativity, and how you can do it yourself. We'll be hearing from people with big ideas about how to transform the world we live in, and from people who've just set out themselves to do it in a smaller way. It's about bringing exciting people in to meet the young people of Sunderland, and about encouraging the young people of Sunderland to go and find what's out there. Most of all, we'll be getting involved - joining the debate, taking part in creative workshops and coming up with a plan to make our world just that little bit better.
Speakers
Speakers may not be confirmed. Check event website for more information.
Southmoor Sixth Form Students
A group of year 12 students from the Sixth Form at Southmoor decided that, for the very first TEDxSouthmoorAcademy, they would campaign for increased awareness of the problem of poor social mobility in modern Britain. After all, who better to look at this than the young people whose futures depend on their access to education and opportunity?
Clare Heal
Clare Heal is a London-based journalist. She worked for Express Newspapers for 13 years, as a feature writer, editor, radio critic and opinion columnist before leaving to go freelance at the end of 2014. Her website is clareheal.com
Dee Bleakley
Dee Bleakley is a motivational speaker who strives to make sure individuals and teams push themselves to their limits and reach their goals (both professional and personal) by sometimes making the simplest of lifestyle and mindset changes. His motivational speeches help inspire and increase confidence in thousands of people every year as he travels around the UK. A sports enthusiast, traveller, geek and a self-proclaimed "immature professional" this ex-geography teacher keeps participants on their toes at all times. With an upbeat pace and questioning style, Dee has a real unique ability to inspire and motivate audiences in a fun, humorous and engaging manner. *Irish accent comes as standard.
Luke Wright
Luke Wright writes bawdy bar room ballads about small town tragedies and Westminster rogues. His fast paced, witty poems are crammed full of yummy mummies, debauched Tory grandees, maudlin commuters and leering tabloid paps. His live shows are enjoyed by thousands of people across the world every year, where he mixes the wistful with the downright comic to take audiences on an incredible emotional journey.