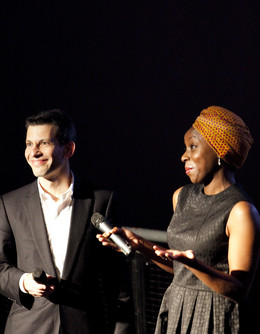 On 20th September 2010 over 300 of the world's leading thinkers, innovators and scientists will come together for TEDxLondon: The Future We Make to explore what the future holds for health and development around the world. What changes have taken place in the last decade? And what more needs be done to ensure the health and wellbeing of future generations?
Hosted by WIRED UK editor David Rowan, TEDxLondon will feature a series of talks including a live webcast from Melinda Gates of the Bill and Melinda Gates Foundation and speakers sharing their own perspectives on the issues surrounding the Millennium Development Goals.
Speakers
Speakers may not be confirmed. Check event website for more information.
Wendy oversees Broadcast, Pledge and special projects for Link TV, the independent, non-profit media network; whose goal is to inspire global awareness through unique content: international news, foreign films, world music, and global comedy series.
Chimamanda Ngozi Adichie
Nigerian born author, Chimamanda is famously known for her fictional take of the Biafran War in Half of a Yellow Sun. Having deeply rooted interests in current affairs and global issues, she has taken on the role of a judge on the ViewChange film contest, contributing her perspective on what makes an engaging story. Upcoming projects include a further literature project focusing on Nigerian immigrants when they encountered a new life in the USA.
Andrea Coleman
In Africa millions of people are dying from easily-preventable diseases because health workers do not have the reliable transport to reach them. As a former motorcycle racer and co-founder of Riders for Health, Andrea ensures health workers have access to vehicles that never break down. Riders for Health is making sure millions of people across Africa receive regular, reliable health care, often for the first time in their lives.
Paul Hilder
Paul Hilder is a global public entrepreneur, organiser and strategist. He is Campaigns Director of the worldwide movement Avaaz.org, which has grown to over five and a half million members worldwide since he helped launch it in 2007, and a board director of the British campaigning movement 38 Degrees. Previously, he co-founded openDemocracy.net, the global debate network. He has worked on conflict resolution, democracy and social innovation internationally, in particular in Europe and the Middle East. He is the author of Contentious Citizens (Carnegie / Young Foundation, 2007) and a Trustee of the human rights charity Article 1. From October 2010, he will be the new Director of Campaigns in the UK for Oxfam, the global development movement.