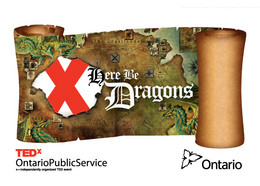 The fourth annual TEDxOntarioPublicService event took place on April 17, with Melissa Tullio leading communications. This was an invitation-only event for employees from the Ontario Public Service.
Please contact melissa.tullio at ontario dot ca if you have any questions.
Why dragons?
The theme for this year's event is Here Be Dragons.
During the Middle Ages, before all regions of the world had been discovered, mapmakers would draw dragons and other dangerous creatures on uncharted areas of maps. For this year's event, speakers will take us on a quest beyond what we've known and grown comfortable with in the OPS to explore new, undiscovered territory. What dragons do we perceive ahead of us? How might we combat them and discover what's across the borders drawn on the map? Are dragons even real?
Act I
Welcome: Catherine Doyle and Sue Sneyd
Getting out of one's comfort zone: Alison Stewart
TEDVideo: Try something new for 30 days: Matt Cutts
A 200% on a 1% investment: Chris MacLean
TEDVideo: I got 99 problems... palsy is just one: Maysoon Zayid
Coming out and supporting inclusion and diversity: Matthew Casselman
TEDVideo: How to start a movement: Derek Sivers
Here be my dragons – You have such beautiful hair but...: Rimshah Ahmed
Act II
The case for mandatory recess in the OPS: June Morrow
TEDAd: Homeward Bound: Saroo Brierley
Taming the Dragon of Perception: Baboo Kureemun
TEDVideo: What I learned from going blind in space: Chris Hadfield
Micro‐inequities: Dragons that can slay us: Arlene Terry
TEDAd: Thank You, Mom: Proctor & Gamble
What if WE are the dragons?: Kary Shannon
Closing: Catherine Doyle and Sue Sneyd
Satellite locations
The following 38 locations hosted a live video feed of the event across the province.
Cornwall
Guelph
Hamilton
Kingston
Kitchener
London (600 Sanatorium)
London (72-1200 Commissioners Rd E)
Markham
Midland (Sainte-Marie among the Hurons)
North Bay
Oshawa
Penetanguishene
Peterborough
Sudbury
Thunder Bay (435 James Street South)
Thunder Bay (189 Red River Rd.)
Toronto (Downsview)
Toronto (2275 Midland Ave, Scarborough)
Toronto (5700 Yonge St.)
Toronto (5255 Yonge St.)
Toronto (40 St. Clair Ave. W., 14th floor)
Toronto (40 St. Clair Ave. W., 3rd floor)
Toronto (101 Bloor Street West)
Toronto (1075 Bay St.)
Toronto(77 Wellesley St. W.)
Toronto (80 Grosvenor St.)
Toronto (95 Grosvenor St.)
Toronto (7 Queen's Park Crescent)
Toronto (777 Bay St., 3rd floor)
Toronto (777 Bay St., 5th floor)
Toronto (777 Bay St., 15th floor)
Toronto (700 Bay Street)
Toronto (655 Bay Street)
Toronto (222 Jarvis St.)
Toronto (393 University Avenue)
Toronto (20 Dundas St. W)
Toronto (10 Adelaide St. E., Ontario Heritage Trust agency)
Windsor (#200-3155 Howard Ave)
After-party
An after-party was held after the event at Church on Church st. in Toronto.