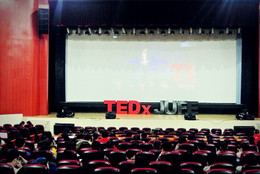 This event:TEDxJUFE Live!

2014 TED Conference:The Next Chapter即将举行!
同时,作为TED30周年庆典
大会新增All-Stars Sessions,特邀过去最受喜爱的talkers发表简短演讲和更新
首屈一指的天才盖茨、《shape of my heart》演唱者Sting、斯坦福监狱实验主持者Philip Zimbardo、相信gaming make a better world的游戏设计师Jane McGonigal……
将带着他们的idea齐聚温哥华会议现场
回顾30年发展成果 畅想人类未来!

3月19日(周三)上午有空嘛?
不,我们不是在邀你组团飞往温哥华
我们是在约你一起看直播~

江财维享社—-江西地区唯一TED2014年度大会转播权持有者---邀你入座江西财经大学现代教育技术中心MBA学术报告厅

不用飞跃大洋 ,不用2500美元的门票,只需成功在线报名,
我们就为你献上最丰盛最新鲜的TED大餐!
We will show you The Next Chapter.
We broadcast from Beijing at 7:45 on March 19 until 11:45 with broadcasting All-Stars Session 2 and Session 4 parts.We invited local TED fans in Nanchang, Jiangxi University of Finance and foreign teachers and students to participate in the live event. In the broadcast process, we encountered some have predicted prior to and try to remedy problems such as speed instability leading to live is not smooth.