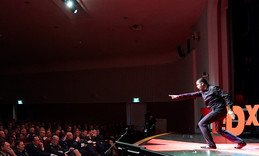 TEDxDefensie is all about the people working within the Dutch Ministery of Defence. Our speakers will amaze, inspire and encourage others to create, innovate and improve their leadership.
'Leaders develop leaders'.
Unique in this event are the themes of the breaks.
Break 1 'creativity'. Employees will show their artistic talents through paintings, photografs and books they created.
Break 2 'innovation'. A variation of innovative projects within the Ministery of Defence are displayd.
Break 3 'environment'. Environmental projects are displayd and the theme is incorporated in the food that is served.