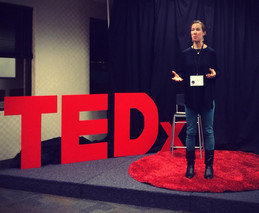 Invented Here. This TEDxWomen event focused on sharing our personal TEDx ideas worth spreading following the livestream of TEDWomen.
Speakers
Speakers may not be confirmed. Check event website for more information.
Mia Voss is a Denver based business owner & entrepreneur juggling several great businesses & projects that all have one thing in common: building a stronger community! Whether that be through her strategy consulting business, The Mia Connect, via CRAVE Denver, a local networking group that she spearheads or TMC Services, her long standing inspection company, Mia stays connected to all things great in Denver and beyond. Mia's journey of entrepreneurship began back in 2001 when the thriving economy posed an opportunity for her to start a niche business in Denver. Moving away from the corporate world, Mia formed Blue Heron Consulting, an inspection business working exclusively with architects & developers on high-end projects throughout the US. What began as an accidental need turned into a long-standing business that is still in operation! ( now TMC Services) Fast forward to 2010, a time that facilitated severe change for many a small business owner. The extreme turn in the national economy posed another challenge that turned to opportunity. The offer to start the local chapter of CRAVE Denver gave Mia the chance branch out & become more involved in the community. CRAVE is a national group that supports & promotes women-owned businesses in local communities and the CRAVE movement in Denver is wildly successful. The first edition of CRAVE Denver was launched in February 2011 and the 2nd Edition is set to launch in 2013. Building the CRAVE Denver presence turned into yet another opportunity. The unique experience of discovering local women business owners lead to the idea of further promoting ALL businesses in the community and connecting them all together. Thus, the idea of strategy, collaboration & The Mia Connect began. Her mission is to nurture the idea of community, collaboration and strong business ideals! An Illinois native, Mia arrived in Colorado in 1995 by way of NYC. And Denver is definitely her favorite place to be…. philosophy - Be a cheerleader for the things you love! - Think globally, act locally. - Collaboration is the new competition. - Work smarter, not harder.
Darcy Varney Kitching
Darcy Varney is a world traveler and an intrepid explorer of cities, towns and wild places everywhere. Guided by her own innate curiosity about how places influence who people become, she has pursued a broad education in human development, community development and urban planning and is now working on her Ph.D., studying how community values, place meaning and place attachment inform planning decision making. For the past six years, Darcy has also worked for UN-HABITAT, the United Nations agency focused on human settlements and urban poverty. Her experiences in Nairobi, Kenya, where UN-HABITAT is headquartered, have informed much of her thinking about how place matters to people. In her work, Darcy has explored the use and meaning of places among children and youth, as well as adults. She helped establish and lead the Children, Youth and Environments journal and research center at the University of Colorado at Boulder from 2003 to 2008; served as a coordinator and researcher on the Denver Child and Youth Friendly City Initiative from 2006 to 2008; conducted informal research in partnership with youth in Nairobi's Mathare Valley slum in 2005 and 2009; and recently co-founded the Community Storybooks project to help small-town residents preserve the "heart and soul" of their communities in an environment of rapid change. Darcy started following her passion for places back in 1994 when, armed with a B.A. in English, she set off to explore and write in New Zealand. She later leveraged her experience to become an editor at a coffee trade magazine in Portland, Oregon, after which she studied human development and taught near Chicago, Illinois. Following a short stint teaching and learning in Izmir, Turkey, she returned home to Colorado to learn more about cities and people at the University of Colorado. She has taught and lectured extensively in the College of Architecture and Planning. Darcy is also an avid photographer who loves capturing the beautiful people and places she gets to know through experiences at home and around the world.
Andrea Gelfuso
I am an environmental attorney with experience in all aspects of Federal Environmental and Natural Resources law, and have recently specialized in the complex area of air quality law as an Assistant Attorney General for the State of Colorado. In that capacity, I negotiated an enforcement action against the largest molybdenum mine in the country. I also represented the Colorado Air Quality Control Commission, which oversees State regulation of air quality in Colorado. I recognized that the Commission's Procedural Rules were outdated and obtuse, so I updated and revised them. My revisions make the rule making process consistent with existing law and more easily understood by the general public. I am a highly successful environmental litigator; in my ten years of practice before the Interior Board of Land Appeals, I never lost a case, and recently prevailed in a Public Trust Doctrine case for the State of Colorado. I also enjoy applying my understanding of environmental law and regulation to resolve issues through creative and collaborative problem solving. I teach Environmental Law at the University of Denver, where I won an award for excellence in teaching. While living in Italy in 2009, I taught Italian Environmental Law, Environmental Issues of Italy, and Civic Engagement. On my return to the States, I presented a Colloquium at DU called "Fuhgeddaboudit: the EcoMafia and Environmental Law in Italy."