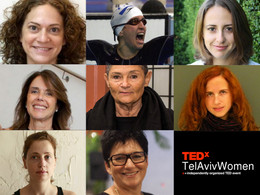 Thousands of women in more than 150 TEDx events around the world will take part in watching TEDWomen live from SF on Dec 5th.
Together with Abigail Tenembaum [TED speakers' coach] and Liat Aaronson [TEDxTelAviv and TEDxHolyLand co-organizer], Maya Elhalal-Levavi [TEDxTelAviv 2010, 2012 and TEDxLowerEastSide organizer] will host the live simulcast of TEDWomen at TEDxTelAvivWomen on the evening of Dec 5th.
TEDWomen 2013 will continue TED's multi-year conversation about women's work and lives, present and future. This is where Sheryl Sandberg gave the talk that lead to her book and movement 'lean-in' and where Jane Fonda gave an unforgettable talk about life's third act.
On top of the great program coming in from SF, TEDxTelAvivWomen will feature a short program of local TEDx talks by Israeli Women.
This event is made possible by McCann Valley and will be hosted at McCann's boutique cinema in Tel Aviv.
Speakers
Speakers may not be confirmed. Check event website for more information.