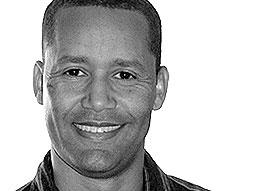 Zeresenay Alemseged
Paleoanthropologist
Zeresenay "Zeray" Alemseged digs in the Ethiopian desert, looking for the earliest signs of humanity. His most exciting find: the 3.3-million-year-old bones of Selam, a 3-year-old hominid child, from the species Australopithecus afarensis.
Why you should listen
Paleoanthropologist Zeresenay Alemseged studies the origins of humanity. Through his Dikika Research Project (DRP) in the Afar desert of Ethiopia, he has discovered the earliest known skeleton of a hominid child, the 3.3-million-year-old bones of Selam, a 3-year-old girl of the species Australopithecus afarensis. She is a member of the same species as Lucy, discovered nearby in 1974.
In studying Selam's tiny bones, Alemseged is searching for the points at which we humans diverged from apes. For instance, Selam may have had ape-like shoulders, made for climbing trees -- but her legs were angled for walking upright. Her young brain, at age 3, was still growing, which implies that she was set to have a long human-style childhood. And in the hyoid bone of her throat, Alemseged sees the beginning of human speech.

Born in Axum, Ethiopia, Alemseged is based in San Francisco at the California Academy of Sciences where is is the Director and Curator of the Anthropology department. Prior to this, he was a senior researcher at the  Max Planck Institute for Evolutionary Anthropology in Leipzig. To see more video from Alemseged, visit the video archives of Nature.
Zeresenay Alemseged's TED talk