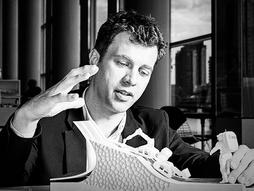 Xavier De Kestelier
Architect, technologist
Xavier De Kestelier is an architect and technologist with a passion for human space exploration.
Why you should listen
Xavier De Kestelier is interested in designing long-term space habitats and believes that architects have a crucial role to play in the design of any future settlements on Mars or the moon. He has worked on research projects with both ESA and NASA and is interested to see how 3D printed structures could protect astronauts from solar radiation, meteorites and extreme temperatures.
He was previously co-Head of Foster + Partners' Specialist Modelling Group (SMG), the architecture practice's multi-disciplinary research and development group.
Over the years De Kestelier has been a Visiting Professor at Ghent University, Adjunct Professor at Syracuse University and a Teaching Fellow at The Bartlett School of Architecture. Since 2010, he has been one of the directors of Smartgeometry, a non-profit educational organisation for computational design and digital fabrication.
Based in London, De Kestelier is currently principal and executive board member at international design practice HASSELL where he leads the global efforts in design technology and digital innovation.
Xavier De Kestelier's TED talk